INTERNATIONAL COMMUNICATION
The signals of CCTV are available around the globe. Its programs reach 140 countries and regions. CCTV has set up the Great Wall Platform with 19 domestic TV companies for sending Chinese programs abroad, and has expanded the platform to the United States, Canada, Latin America, Asia, Europe and Southeast Asia.
CCTV maintains cooperation with 241 media outlets in 140 countries and regions, and has correspondents in 19 places around the world. In 2008, CCTV's bureaus in Europe and America started their operations with the goal of increasing news gathering and promoting international communication. CCTV is taking an active role to expand exchanges and cooperation with major foreign media and deepen cooperation with countries around China. CCTV will make consistent efforts to improve its global influence.
PRODUCTION AND BROADCASTING TECHNOLOGY
CCTV possesses world-class advanced equipment and facilities.
Its programs have been broadcast through digital optical cables, satellites and the Internet. All of CCTV's production equipment now meets the requirements of the digital age and the broadcasting procedure has been automated. CCTV is a domestic pioneer in adopting digital hi-definition television, stereo TV programs and DAB. The state broadcaster also established the country's largest audio and video archive, which has a storage potential of 1 million hours of programs. CCTV has also launched a management system of program production and caching system for program files. All these have ensured the TV station a digital network of production and broadcasting.
DEVELOPMENT OUTLOOK
In the near future, CCTV will soon move into its new headquarters. It's the largest single building used for cultural causes that China has built since the founding of the People's Republic in 1949. It will become one of Beijing's landmarks. Part of the facilities in the new headquarters has been used for the broadcast of the 2008 Beijing Summer Olympics.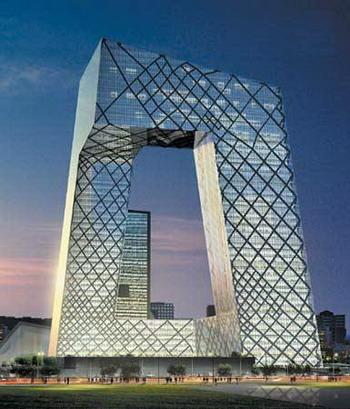 CCTV New Site