Hong Kong thriller to hit cinemas
Multiple Hong Kong Film Award winner Derek Yee is back with his latest thriller "Triple Tap", starring actor Louis Koo and Daniel Wu as gun-blazing arch-enemies.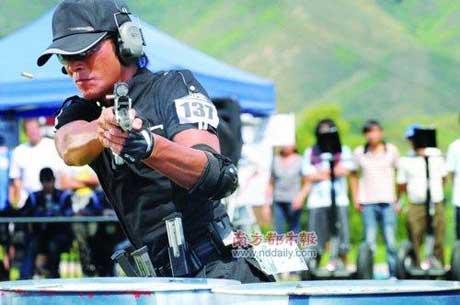 Still of thriller "Triple Tap"
Champion competitive marksman Ken, played by Koo, stumbles into a middle of an armored van robbery. He sees a policeman held hostage and shoots and kills four of the robbers. One of the robbers escapes and the policeman survives. The case is handled by Jerry Chang, played by Daniel Wu, whom Ken knows from having recently beaten him in a shooting match. Ken is found not guilty in court but soon after he is attacked by the escaped robber. Their confrontation reveals a very different background story. The participation of actress Charlene Choi and Li Bingbing is believed to add the film's appeal.
"Triple Tap" is set to be released across China during the May Day holiday.