The Channel name of "CCTV-9" was changed to "CCTV News" from 19:00 pm (Beijing Time) on April 26th, 2010. Meantime, its schedule was changed accordingly. Welcome your attention.
CCTV NEWS, Your Link to Asia
CCTV NEWS is the English language news channel of China Central Television (CCTV), the nation's largest national broadcasting network. The channel grew out of CCTV International, which was launched on September 25, 2000. Its wide range of coverage includes newscasts, in-depth reports, and commentary programs, as well as a host of feature presentations.
CCTV NEWS is China's contribution to greater diversity and wider perspectives in the global information flow. With a special focus on China, the channel also emphasizes events taking place in Asia and all developing countries. It provides international audiences with a window into understanding China and the world at large.
The most prominent programs on CCTV NEWS include News Update and News Hour, providing comprehensive global coverage; China 24 and Asia Today, delivering the latest domestic and regional developments. Specialized programs Biz Asia, Biz Talk, New Money, Culture Express, and Sports Scene supply news and information on business, finance, economics, culture, and sports. Shows such as Dialogue and World Insight extend balanced and critical perspectives on current affairs affecting all corners of the globe.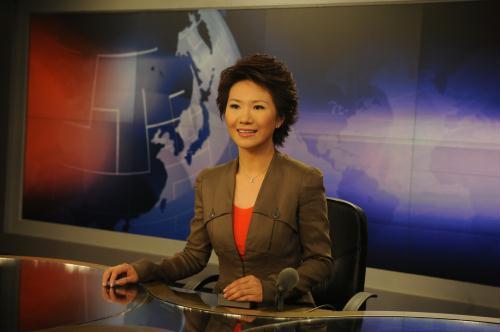 CCTV anchor Liu Xin is in brand new program.
Viewers also have a variety of choices from CCTV NEWS feature programs on the culture, history, and modern society of China and Asia. In Crossover, hosts and guests of various backgrounds and experiences talk about issues throughout China. Travelogue is the ticket to dynamic and exciting landscapes in China and abroad. Rediscovering China explores contemporary Chinese and Asian culture and social changes through the eyes of international visitors. And Story Board delivers a visual profile of all Asian countries.
CCTV News is a 24-hour news channel. Free-to-air satellite signals can be received by more than 85 million viewers, in over 100 countries and regions. Access is also carried by Cable, DTH, IPTV, and even Terrestrial TV platforms or systems in many nations.
For more information please visit the CCTV NEWS website at english.cctv.com
Thank you for watching CCTV NEWS. Any suggestions are appreciated. Cooperation is welcomed from all television operators.
Contact Information
CCTV NEWS (CCTV-9)
TEL: 86-10-68507207, 68508649
FAX: 86-10-68514993
Address: 11B Fuxing Road, Beijing, China 100038
E-Mail: cctvnews@cctv.com