YUSHU, Qinghai, May 2 (Xinhua) -- Chinese Premier Wen Jiabao has called for scientific and organized efforts in the reconstruction of northwest China's quake zone.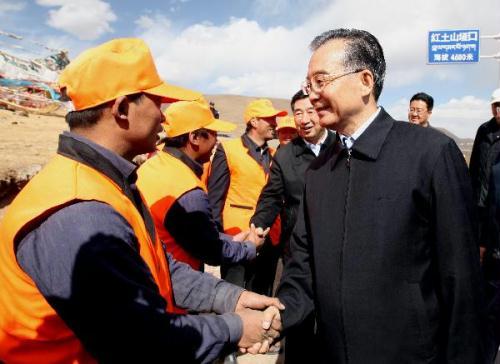 Chinese Premier Wen Jiabao(R front) shakes hands with a road maintenance worker in
quake-hit Tibetan Autonomous Prefecture of Yushu, northwest China's Qinghai Province,
May 1, 2010. (Xinhua/Yao Dawei)
Wen made the remarks during his second visit, which ended Sunday, to Yushu Tibetan Autonomous Prefecture in Qinghai Province.
He also promised that the central government would provide the bulk of the funding for reconstruction with more favorable policies in taxation, finance and land use for the quake zone, taking into account the real difficulties of the prefecture and the province.
The major relief work was focusing on treating the injured, ensuring people's livelihoods, restoring public order and accelerating rebuilding, Wen said.
Reconstruction in Yushu should be based on the prefecture's long-term development, and authorities should take protection of the environment, and economic and social advancement, poverty alleviation and livelihood promotion into consideration, he said.
The reconstruction should be carried out with due concern for the prefecture's distinctive ethnic characteristics and geological conditions.
Wen stressed efforts to resettle the survivors with necessary supplies, allowances to the worst affected and treatment for the injured.
Measures on epidemic prevention, infrastructure rebuilding and public order restoration should be intensified, Wen said.
He called for urgent efforts to ensure smooth traffic in the quake zone and the early full recovery of supplies of water and power.