NEW YORK, May 2 (Xinhua) -- Some 10,000 people participated in a mass demonstration in New York on Sunday, calling for a world free of nuclear weapons.
The rally was held one day prior to the the opening of the UN Review Conference of the Parties to the Treaty on the Non-Proliferation of Nuclear Weapons (NPT), which is scheduled to open on Monday.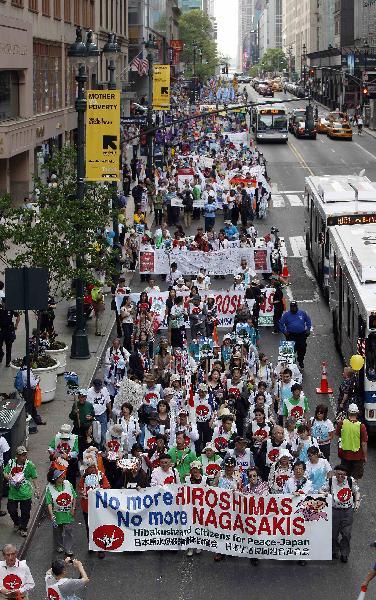 Demonstrators with signs stand during an anti-nuclear weapons
protest rally and march in New York May 2, 2010.(Xinhua/Reuters
Photo)
The demonstrators included people from a number of countries and activists of more than two dozen non-governmental organizations. They marched through the streets of New York to the UN headquarters, carrying placards calling for a world free of nuclear weapons.
Tadatoshi Akiba, Mayor of Nagasaki, Japan, attended the march. He said:"The international community must begin negotiations on the complete prohibition of nuclear weapons."
Nagasaki, along with fellow Japanese city of Hiroshima, were hit by atomic bombs by the United States in the closing days of World War II.
After the demonstration,the participants held an International Festival of Peace and Music in front of the UN Headquarters.
Representatives from more than 100 countries, including Iranian President Mahmoud Ahmadinejad, are expected to attend the latest five-yearly NPT review conference, which will last 25 days.