WASHINGTON, May 3 (Xinhua) -- Pakistani Taliban leader Hakimullah Mehsud appeared in a newly released video, threatening attacks on the United States, terrorist monitoring group SITE said Monday.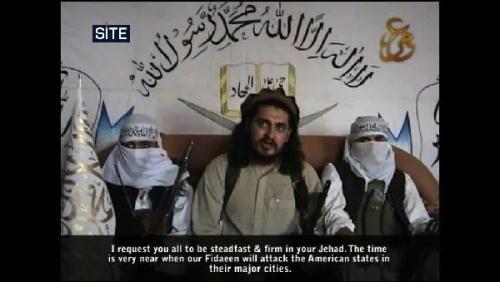 SITE Intelligence Group-issued screengrab shows Pakistan Taliban chief Hakimullah
Mehsud in a new video promising attacks on the USA. Mehsud was reported to have
been killed in a US drone strike in northwestern Pakistan on January 14, but Pakis-
tani intelligence officials were quoted as saying last week that he had survived
the attack.(Xinhua/AFP Photo)
Mehsud, who was reported killed in a U.S. drone strike in January, appeared in the nine-minute video uploaded to the internet alleged to have been recorded on April 4, 2010.
Subtitled in English, the video bears the mark of Umar Studio, the Pakistani Taliban's media arm. In it, Mehsud, flanked by two armed and masked men, stated that his group will retaliate against the United States within a month for killing his predecessor Baitullah Mehsud and others.
He threatened to "attack the American states in the major cities."
Mehsud was reported to have been killed in a drone strike on January 14 in North Waziristan, a northwest Pakistani tribal area bordering Afghanistan, but his group repeatedly denied his death, dismissing the news as propaganda.
Hakimullah Mehsud became the Pakistani Taliban chief after his predecessor Baitullah Mehsud was killed in a U.S. missile attack at their strongholds in South Waziristan in August 2009.