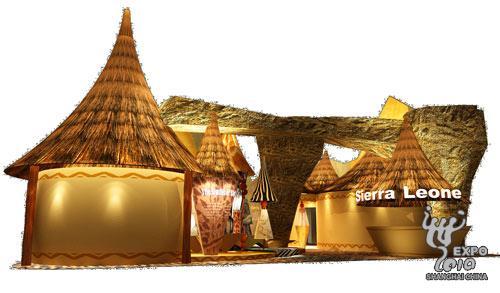 Sierra Leone Pavilion
Overview
Featuring seaside sceneries, beaches and villages, Sierra Leone Pavilion creates a relaxing atmosphere and showcases the local living environment. The dominant colour of the pavilion is orange. The African ambience is heightened by small sheds, handmade carpets and stone artworks.
Area 1:
Scenic BeautyAt the entrance, visitors can feast their eyes upon the decorations with ethnic characteristics. This area will showcase Sierra Leone's natural geography, holiday resorts and mineral resources, so that visitors can get to know the environment, history of the country and so on.
Area 2:
City LifeBy displaying the traditional living environment, folk handicrafts and costumes, this area invites visitors to experience the lifestyle in Sierra Leone. Also, local pop music will be played here to help visitors better understand Sierra Leone's culture.
Area 3:
Urban DevelopmentThis area focuses on the urban development of Sierra Leone. You will be impressed by the vitality of the country's natural port and capital city as well as the rapid rural and urban development in recent years. This will also help you discover the great potential for the country's future development.
Editor:Jin Lin |Source: CCTV.com