By Peter Barker
LONDON, May 7 (Xinhua) -- British voters delivered a big vote of no confidence in their political parties in Thursday's general election, with no party winning enough support to form a majority government, for the first time in nearly 40 years.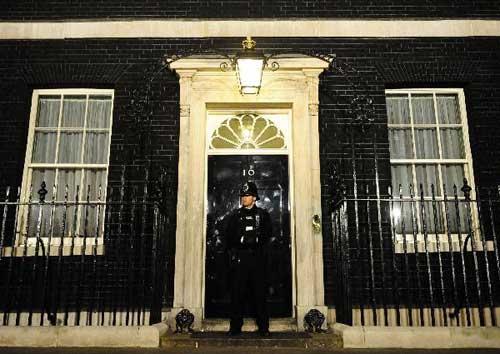 A security guard stands in front of No. 10 Downing Street in London, Britain,
in the early morning of May 7, 2010. The general election in Britain resulted
in a "hung parliament" as no party is going to win a clear majority, preliminary
results showed Friday. (Xinhua/Zeng Yi)
The result is a hung parliament, one where no party can comfortable govern alone and needs the formal support of another party or a less formal agreement.
The Conservative party, the main opposition party for the past 13 years, won the most votes and the most seats but failed to reach the target of 326 members of parliament (MPs) needed for a majority government.
The Conservatives won 36 percent of the vote and more than 90 seats (geographic constituencies which each have one MP), its most successful election in terms of seats for 80 years.
The Labour party suffered its worst general election for nearly 30 years, but will be cheered that it retained second place in votes and seats. Throughout most of the campaign its status as one of the two main parties was under serious attack from a powerful challenge from the third party in British politics, the Liberal Democrats.
Labour lost more than 90 seats, and saw its share of the vote drop to 29 percent with a swing of just over 5 percent to the Conservatives.
The Liberal Democrats had a disappointing election night after a surge of support during the five-week campaign, losing several seats compared with the number they won at the last general election in 2005, but they increased the number of votes, taking 23 percent of the vote.
The election result leaves the Liberal Democrat party in a strong position to choose with whom it forms a coalition, if it wants to, and so choose the next government. It could also refuse to form a coalition or enter a less formal agreement.
Related stories