by Xinhua writers Wang Yue and Cao Yan
CHENGDU, May 10 (Xinhua) -- Lying on her bed, 11-year-old Jia Xiaoli is busy making a poster for a class project. A few draft posters lie scattered around her.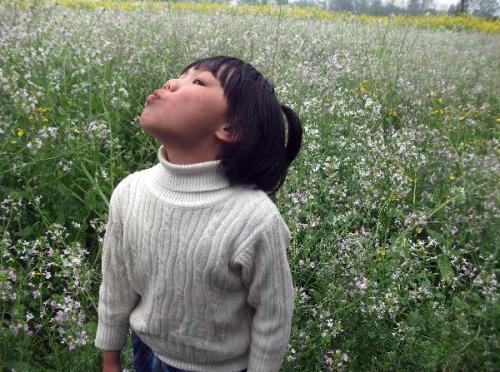 This photo, namely "Kiss the Spring", was taken by He Meijun, an orphan of Wenchuan
Earthquake, in Pixian County, southwest China's Sichuan Province, March 28, 2010.
The Wenchuan Earthquake occurred on May 12, 2010 destroyed a beautiful homeland and
plundered many parents, leaving a big number of orphans. However, the children
received love and care from the bigger family of the country and started a new life
in sunshine. Jiao Bo, a photographer, selected six of them as his pupils, namely,
Liao Cen, Liu Fuming, He Wendong, He Meijun, Wang Xin and Wang Haiyi. Jiao have been
to the quake-hit area for six times to coach the orphans in photographing anything
they were interested in. With pure eyes and from special visual angles, the children
shot special photos, which reflected the feelings and hopes at the bottom of their
hearts. May the sky be always free of haze! May the children be always sunny in the
heart! May the wishes of the children come true!(Xinhua)
Jia Xiaoli survived the magnitude-8 earthquake that struck southwest China' s Sichuan Province two years ago on May 12, leaving more than 87,000 people dead or missing.
She lost her parents in the quake and witnessed the horrific destruction of her hometown in Beichuan County.
She is among the 630-plus children orphaned in the disaster. Only 12 of them were adopted, with the others in the care of welfare homes and relatives, according to the provincial civil affairs bureau.
More than 200 of them, including Xiaoli, live in "Ankang Jiayuan" -- the county' s largest welfare house for Sichuan quake orphans. The welfare house is located in Shuangliu County near the provincial capital of Chengdu.
"She is a smart kid. She is outgoing and sometimes even a little mischievous," said Xu Peixin, her 23-year-old tutor, with a smile on her face.