LONDON, May 11 (Xinhua) -- New British Prime Minister David Cameron said on Tuesday night that he aimed to form a proper and full coalition with the Lib Dems.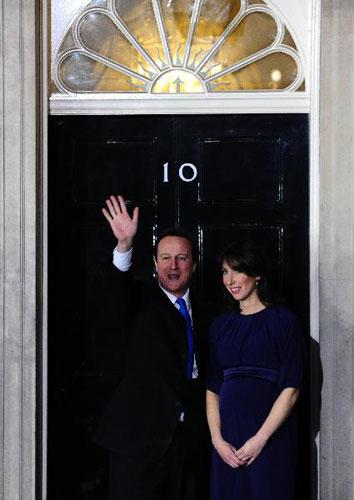 Britain's new Prime Minister Conservative party leader
David Cameron (L) and his wife Samantha arrive at 10
Downing Street in London, on May 11, 2010. Cameron was
appointed by Britain's Queen Elizabeth II as new prime
minister. (Xinhua/Zeng Yi)
Britain's Queen on Tuesday night confirmed David Cameron is new prime minister. Cameron, leader of the Conservative Party, left Bucking Palace and arrived at the Downing Street.
In a statement outside the Downing Street No. 10, Cameron said Britain's best days lie ahead. He wants to rebuild trust in politics. Cameron also promised to be "honest about what government can achieve" and pledges to build a more "responsible society."
A coalition will throw up challenges but the Tories and Lib Dems can start work on improving the country immediately, Cameron said.
Cameron said he and Lib Dem leader Nick Clegg would "put aside party differences and work hard for the common good and the national interest."
He also paid tribute to outgoing Prime Minister Gordon Brown for his long years of public service.
"I want to make sure that my government always looks after the elderly, the frail, the poorest in our country. We must take everyone through with us on some of the difficult decisions we have ahead ... I think the service our country needs right now is to face up to our big challenges, to confront our problems, take difficult decision, lead people through those decision, so that together we can reach better times ahead," Cameron added.
Lib Dem energy spokesman Simon Hughes said his party and the Conservatives have reached a "progressive arrangement," with a " surprising coming together," and people like him, from the " radical center-left of the party," will be able to work with the Tories.
Conservative finance spokesman George Osborne will be Chancellor of the Exchequer in Britain's new government and Shadow Foreign Secretary William Hague will be foreign secretary, the party confirmed, and Downing Street announced Cameron's official spokesman will be civil servant Steve Field.
Related stories