RIO DE JANEIRO, May 11 (Xinhua) -- Exactly one month away from the beginning of the 2010 World Cup in South Africa, the captain of Brazil's 1994 World Cup championship team and current head coach of the Brazilian national team, Dunga divulged on Tuesday the list of players he will carry to South Africa.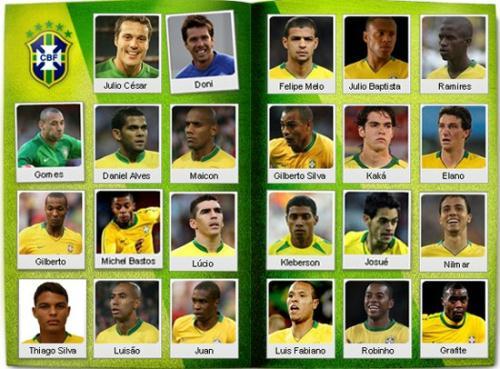 Dunga announced the list of 23 players that will participate in the World Cup in
South Africa 2010 in Rio de Janeiro May 11, 2010. (Xinhua Photo)
Keeping true to his promise of avoiding any "surprises", the coach named only the 23 athletes that will make the trip across the Atlantic Ocean.
Over the past three years and 10 months, Dunga has invited, analyzed and put to test some 85 Brazilian athletes.
He claims that his work has been long and tedious, but the result has led him to select only the best of players to represent Brazil next month on the world's largest stage of soccer.
As a former midfielder, Dunga called eight players in the position.
Coincidentally, Dunga's list of players is the same team that he used in the friendly against Ireland on March 2 in their 2-0 victory. Sticking to his promise of not having any surprise names on the list, Dunga left out the young and talented strikers at Santos Neymar and Paulo Henrique Ganso.