TIANJIN, May 13 (Xinhua) -- Chinese Premier Wen Jiabao Thursday called for deeper cooperation between China and Arab states to create a peaceful international environment for development, fight the financial crisis, safeguard energy security and tackle climate change.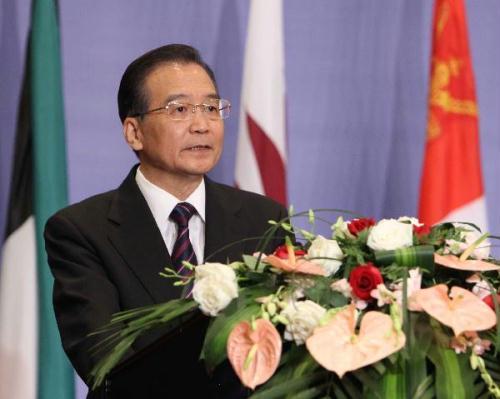 Chinese Premier Wen Jiabao addresses the opening ceremony of the fourth Ministerial
Conference of the China-Arab Cooperation Forum in China's northern port
city of Tianjin, on May 13, 2010. (Xinhua/Liu Weibing)
Wen made the remarks at the opening ceremony of the fourth Ministerial Meeting of the China-Arab Cooperation Forum held in the north Chinese port city of Tianjin.
During the two-day forum, the two sides will discuss upgrading their relationship to a strategic level and release an action plan for a cooperation blueprint in the next two years.
COMPLICATIONS OF FINANCIAL CRISIS
Wen warned the complication of the global financial crisis with deepening sovereign debt crisis in some nations.
"We should never underestimate the seriousness and complication of the financial crisis and its deep impact on international politics and the economy," Wen said.
The global economy was slowly recovering, but its foundation was not solid, he said.
Wen blamed the fragile recovery on deepening sovereign debt crises in some countries, high unemployment rates in major economies, high commodities prices and rising trade protectionism.
The international governing system faced deep reforms and the global economic structure was undergoing deep transformation, he said.
Wen said reforms of international economic and financial systems should be pushed forward and the establishment of a new just and reasonable international economic and financial order should be accelerated.
"(We) should improve the decision-making processes and mechanisms at international financial institutions and boost cooperation in international financial supervision," he said.
While calling for opposition to all forms of protectionism, support for free trade, Wen said, "It is imperative to advance the Doha Round talks of the World Trade Organization toward achieving reasonable and balanced results as soon as possible."
He urged major economies to transform the economic growth pattern of low savings and high consumption and to strengthen financial supervision to curb excessive speculation.
China would unswervingly carry out its mutually beneficial opening strategy and unveil more measures to facilitate trade and investment, he said.