TIANJIN, May 13 (Xinhua) -- Premier Wen Jiabao said Thursday that establishing a strategic relationship of cooperation between China and the Arab states was in the interests of all sides.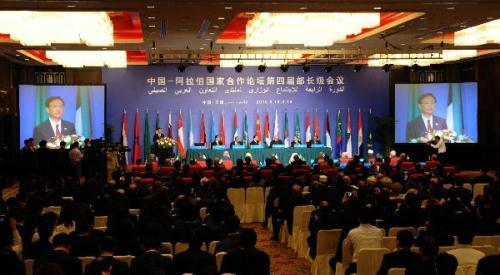 The 4th Ministerial Conference of the China-Arab Cooperation Forum is held in China's
northern port city of Tianjin, on May 13, 2010. (Xinhua/Liu Haifeng)
In a meeting with Secretary General of the League of Arab States Amre Moussa in north China's Tianjin, Wen said the sides would discuss establishing the relationship.
The fourth Ministerial Meeting of the China-Arab Cooperation Forum, which began Thursday, was attended by foreign ministers or representatives of China and Arab states and Amre Moussa.
Wen said the new relationship was conducive to peaceful international development.
China and the Arab states began to describe their relationship as a "new partnership" at the forum's second ministerial meeting in 2006.
Wen said he believed more achievements would be made in the development of China-Arab ties, and the ministerial meeting would be a success.
He hailed the forum's role in advancing China-Arab relations, saying it had become an important platform for dialogue and practical cooperation.
The relationship set a good example for diverse civilizations to learn from each other, make exchanges, and seek common development, he said.
Moussa said the Arab states hoped to carry out more exchanges and cooperation with China, in the hope of reinforcing political and cultural contacts, and cementing economic and trade cooperation through the mechanism of the forum.
Moussa spoke highly of China's positive and constructive role in the Middle East issues.
Wen also met with Libyan Foreign Minister Mousa Kousa, who is here to attend the ministerial meeting.
During their meeting, Wen said China was ready to work with Libya to achieve new progress in China-Arab relations.
Libya will host the third China-Arab Friendship Conference later this year.
Wen said China valued friendship with Libya, and was willing to expand trade cooperation with Libya and enhance coordination in international affairs, so as to benefit the two peoples.
Kousa said the Arab and Libyan people appreciated China's promotion of justice in the international arena and its support for Arab justice.
Libya, as the rotating chair of the League of Arab States summit, was willing to contribute to building the China-Arab Cooperation Forum and promote Arab-China relations, Kousa said.
He said Libya hoped to develop a long-term friendship with China and enhance dialogue and coordination on international and regional issues.
The meeting was scheduled to be concluded on Friday.
Editor:Jin Lin |Source: Xinhua