Vehicles powered by electricity may be the darling of auto makers, but private buyers are staying away in droves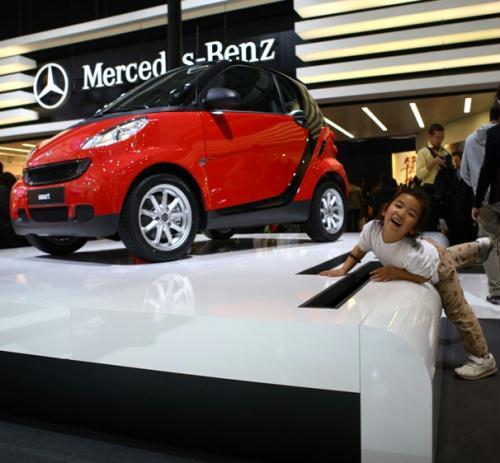 A SMART hybrid car is seen at the AutoChina 2010 car show that ended on May 2. Green
cars made up a 10th of the 990 vehicls shown at the exhibition. Zou Hong / China Daily
Fan Yi owns three luxury cars, each worth more than 2 million yuan. Although money is not an issue for her, she is not willing to fork out an extra 100,000 yuan to buy a "green" hybrid car, powered by a petrol engine and an electric motor.
"I'm a practical person. The hybrid car claims to be 40 percent more fuel efficient than a regular car, but I don't think it will save me 100,000 yuan on fuel costs during the car's life," Fan said.
If a wealthy person such as Fan still cares about the "meaningless cost", then Zhang Yang's situation is easy to understand.
As a Toyota dealer at the Yayuncun Automobile Exchange Center, he hasn't sold a single Camry hybrid since it entered the market this month.
"People don't even bother to ask," he said.
The Camry hybrid - the cheapest from Toyota - cost 310,000 yuan, 120,000 yuan more than a regular Camry. The Camry is the fifth hybrid Toyota in China, along with the Prius and the Lexus LS600, RX450 and GS450.
Hybrid cars are not alone in facing this problem. Another two members of the green car family - electric cars and fuel cell cars - face a bigger problem: they are usually seven to eight times more expensive than a regular car.
Zhang said the buyer resistance is understandable, especially toward electric cars.
"Who is going to buy it to invite trouble?" he said. "There are not enough recharge stations for the batteries around the city at present."
Although green cars are getting a cold reception from the public, they are the superstars of manufacturers.