BOSTON - The Boston Celtics pulled off a stunning playoff upset on Thursday with a win over a top-seeded Cleveland Cavaliers team that were heavy favourites to win the franchise's first NBA championship.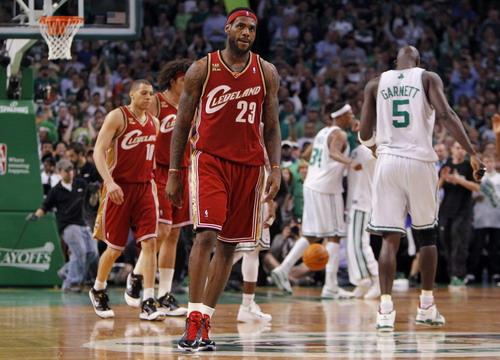 Cleveland Cavaliers LeBron James stands on the court against the Boston Celtics
during the fourth quarter in Game 6 of their NBA Eastern Conference playoff
basketball series in Boston, Massachusetts May 13, 2010. (Agencies)
The Celtics clinched the series with a 94-85 victory in Game Six of the best-of-seven series and advance to the Eastern Conference final, where they will play an Orlando Magic team that has not lost since April 2.
Boston forward Kevin Garnett starred for the home team with 22 points and 12 rebounds, backed up by guard Rajon Rondo with 21 and Paul Pierce with 13.
The Celtics never trailed by more than four points and blew the game open late in the third quarter when Rasheed Wallace and Pierce drained three-pointers about 30 seconds apart to build a 12-point cushion.
Cleveland's league MVP LeBron James, one of a number of high-profile players who could opt for free agency this year, had a game-high 27 points but was far from the dominant force that led his team to the top record in the regular season.
Related stories