by Chen Jipeng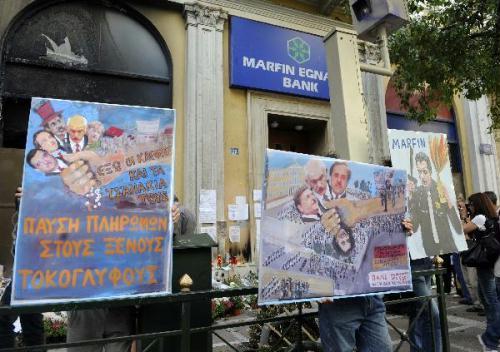 Greek protesters hold placards denouncing the EU-IMF supported austerity measures
during a demonstration organized by labor unions in Athens, capital of Greece, May
12, 2010. The two umbrella labor unions of public and private sector employees
ADEDY and GSEE called for a new general strike on May 20. (Xinhua/Phasma)
BEIJING, May 14 (Xinhua) -- The world capital markets responded positively over the past few days to the huge rescue plan tailored to help European countries out of the debt crisis and stabilize the euro zone, but analysts warn that such a plan may not prove to be a good enough cure.
While the political will shown by the EU leaders has eased the liquidity concerns on the market and put the tumbling confidence on hold, the debt sustainability in Europe and many other problems exposed in the crisis remain unaddressed. The rescue plan also has some worrisome implications, they say.
"Even though the deal led to a relief rally, it does not fundamentally change our view on the debt sustainability in Europe," said Nouriel Roubini, New York University professor who made his name giving warnings ahead of the sub-prime crisis that eventually led to the global financial crisis in 2008.
"The total financing needs for Portugal, Ireland and Spain until 2012 amount to 600 billion euros. Those for Greece amount to about 122 billion euros," he said.
Related stories