BEIJING, May 14 (Xinhua) -- Chinese President Hu Jintao Friday pledged to further political, economic and cultural cooperation with Arab states, as they agreed to upgrade bilateral ties to a strategic level.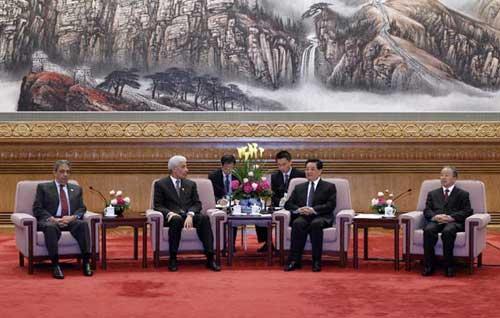 Chinese President Hu Jintao (2nd R) meets with heads of Arab States delegations
who came to attend the Fourth Ministerial Meeting of the China-Arab Cooperation
Forum in Beijing, China, May 14, 2010. (Xinhua/Liu Jiansheng)
Meeting in Beijing with Arab representatives to the Fourth Ministerial Meeting of the China-Arab Cooperation Forum, Hu made a three-point proposal on promoting the strategic cooperation relationship, which was forged during the two-day meeting held in the coastal city of Tianjin.
Hu suggested China and Arab states enhance political mutual trust, deepen cooperation on international affairs, support each other on major issues concerning their core interests, jointly cope with global challenges and safeguard the common interests of developing countries.
Hu highlighted the principle of mutual benefit in economic cooperation. He proposed the two sides expand cooperation in trade, investment, energy and infrastructure construction, and in such fields as finance, agriculture, science and technology and environment protection.
Hu proposed the two sides to enhance exchange and cooperation in culture, education, media, youth and tourism sectors.
China firmly supported the peace process in the Middle East, the just cause of Arab states' efforts in working for resumption of legitimate national rights, and supported the proposal of establishing a nuclear-free Middle East, Hu said.
China would work with Arab states to further improve the China-Arab Cooperation Forum so as to speed up the development of ties, he said.
Libyan Foreign Minister Mousa Kousa, also co-chair of the meeting, and Secretary General of the League of Arab States Amr Moussa said the ministerial meeting, in which important consensus was reached, was successful.
Labeling China a "strategic partner" of Arab nations, they said the partnership, along with booming pragmatic trade, economic and humanitarian cooperation, has been solid and vigorous.
They agreed China was playing an increasingly important role in maintaining regional peace and security by supporting the Middle East peace process.
Arab nations would adhere to the one-China policy and support China's peaceful reunification, and work with China in the future development of the forum in a bid to build the strategic cooperation relationship as a model between states.
The forum, initiated in January 2004, has served as a platform for exchanging views between China and Arab nations and for enhancing mutually beneficial cooperation.