TAIYUAN, May 15 (Xinhua) -- China's police chief urged local authorities to mobilize social forces to secure a safe environment for kids after a series of attacks on students over the past two months.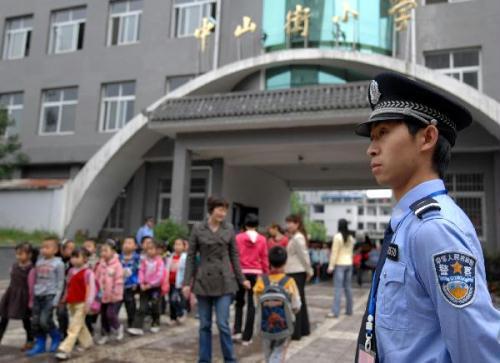 A policeman stands guard as pupils leave the school in Hanzhong City of northwest
China's Shaanxi Province, May 14, 2010. A string of school attacks shocked China in
recent weeks. Police have been ordered to beef up security at school compounds and
nearby residential communities.(Xinhua/Ding Haitao)
Meng Jianzhu, minister of public security, made the call during his visit to kindergartens and primary schools in northern Shanxi Province from Thursday to Saturday.
To protect the safety of children is the primary task of schools, but also a common responsibility of the whole society, Meng said, urging the mobilization of social forces to ensure security in kindergartens and schools.
Efforts should be made especially to ensure security in schools in remote areas so that "every kid is safe when they are in school," Meng said.
He also urged local officials to care for the needy groups.
Brutal attacks on children over the last two months in China have left 17 killed and scores injured. In the latest atrocity, a 58-year-old man killed seven children and two women with a meat cleaver at a kindergarten in northwestern Shaanxi Province on May 12.
Editor:Zhang Ning |Source: Xinhua