NINGBO, Zhejiang, May 16 (Xinhua) -- Internet of Things (IOT) -- which refers to digital networks of physical objects -- has huge potentials but many challenges lie ahead, said scientists, entrepreneurs and government officials on Sunday.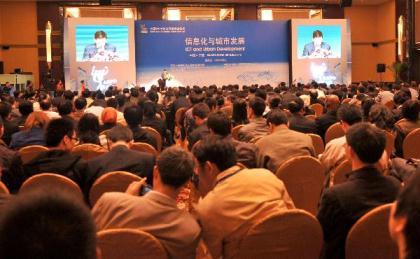 The first theme forum of the Shanghai World Expo is closed in Ningbo,
a coastal city of east China's Zhejiang Province, May 16, 2010. The
two-day forum focusing on information and communication technologies (ICT)
and urban development attracted over 600 participants including renowned
scholars and entrepreneurs. (Xinhua/Wang Dingchang)
IOT has become a catchword for those at the Information and Communication Technology and Urban Development Forum held in east China's coastal Ningbo this weekend on the sidelines of the Shanghai Expo; from ministers to mayors, scientists to entrepreneurs, keynote speakers to audiences.
China should accelerate the development of the IOT industry so as to create a new platform for economic growth, said Li Yizhong, Minister of Industry and Information Technology in his opening speech to the forum.
Minister Li's words were echoed by Zhao Hongzhu, communist party chief of Zhejiang Province, who called for more efforts to develop such key concepts as IOT, which, in his words, "present a brilliant future for urban life."
In what's called Internet of Things, networks of real-world objects are linked to the Internet and interact through web services. As more objects are embedded with sensors, giving them the ability to communicate, and networked together, the possibilities are enormous, potentially resulting in new business models, improved business processes and reduced costs and risks, according to a March 2010 report by McKinsey & Co..
If all objects of daily life, from a bottle of yoghurt to an airplane, are equipped with sensors, they can be identified and managed by computer systems, thus offering immense potential to consumers, manufacturers and firms.
Last year in Wuxi, Jiangsu Province, Chinese Premier Wen Jiabao first spoke of the drive to develop IOT.
His comments as well as subsequent proposals by the premier have ignited great interest in IOT. Having recognized the great potentials for economic and social progress, a number of local governments have focused on projects related the emerging sector.