We are all used to 'buy one, get one free' offers at the supermarket, but it seems Mother Nature sometimes comes up with her very own BOGOF deal.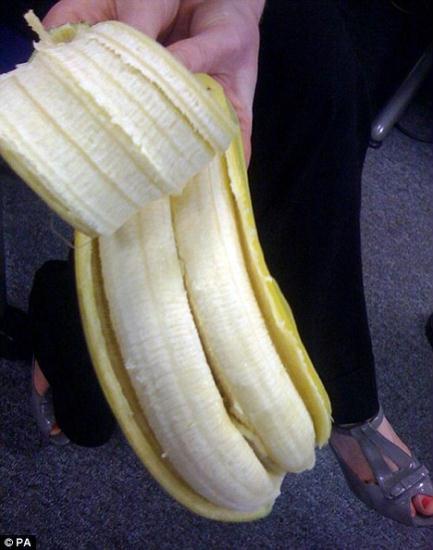 A-peeling: The double fruit inside a single banana skin was
discovered by a charity worker
Organisers of a charity fun run stumbled across this remarkable double banana among a batch provided for competitors.
The larger than usual fruit was spotted the day before the World Cancer Research Fund race.
And when one organiser peeled back the skin she found two bananas, crammed tightly side-by-side like two fingers of a Twix.
Even more bizarrely, the charity run in London's Hyde Park was billed Beat the Banana! – a race in which competitors attempt to overtake an athlete dressed as a banana.
The fruit was donated by Dole Fresh UK, which sponsored the Fruity Friday event, organised to raise awareness about the importance of eating fruit and vegetables
A spokesman for The Caribbean Banana Exporters Association expressed his surprise, saying that they had never encountered any double bananas before.
The find turned out to be good value of the charity as bananas are particularly expensive at the moment.
Last month, they were selling for 97p per kilo in the big four supermarkets, 35 per cent up on the same period last year.
Editor:Jin Lin |Source: CCTV.com