LOS ANGELES, May 17 (Xinhua) -- NASA's Cassini spacecraft will be turning another double play this week, visiting the geyser moon Enceladus and the hazy moon Titan, the Jet Propulsion Laboratory (JPL) announced on Monday.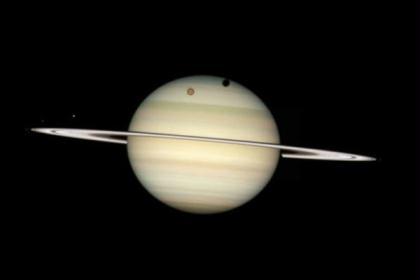 An image of four moons of Saturn passing in front of their parent planet
in seen this image taken by NASA's Hubble Space Telescope February 24,
2009 and released by NASA March 17, 2009. (Xinhua/Reuters File Photo)
Taking advantage of the alignment of the moons, Cassini will be able to catch glimpses of these two contrasting worlds within less than 48 hours, with no maneuver in between, the JPL said.
Cassini will make its closest approach to Enceladus late at night on May 17 Pacific time, which is in the early hours of May 18 UTC. The spacecraft will pass within about 435 kilometers (270 miles) of the moon's surface, according to the JPL.
The main scientific goal at Enceladus will be to watch the sun play peekaboo behind the water-rich plume emanating from the moon' s south polar region.
Scientists using the ultraviolet imaging spectrograph will be able to use the flickering light to measure whether there is molecular nitrogen in the plume.
Determining the amount of molecular nitrogen in the plume will give scientists clues about thermal processing in the moon's interior, said the JPL, headquartered in Pasadena, Los Angeles.
Ammonia has already been detected in the plume and scientists know heat can decompose ammonia into nitrogen molecules.
The second of Cassini's two flybys is an encounter with Titan. The closest approach will take place in the late evening May 19 Pacific time, which is in the early hours of May 20 UTC. The spacecraft will fly to within 1,400 kilometers (750 miles) of the surface.