BEIJING, May 18 (Xinhuanet)-- First Lady Michelle Obama has touted the efforts made by U.S. food manufacturers to trim 1.5 trillion calories from their products in a major step forward in her anti-obesity campaign, according to media reports.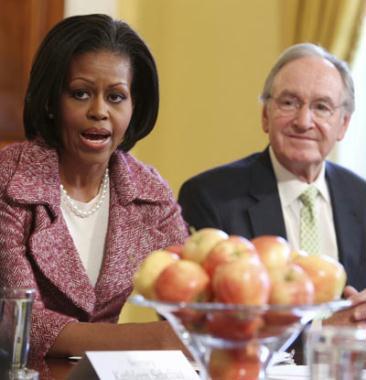 U.S. first lady Michelle Obama talks about childhood obesity
next to U.S. Sen. Tom Harkin in the Old Family Dining Room at
the White House in Washington, February 2, 2010.
(Xinhua/Reuters photo)
Obama said 16 corporations accounting for up to 25 percent of the American food supply chain would trim a total of one trillion calories by 2012 and 1.5 trillion calories by 2015.
"Today's announcement represents an important step forward to providing Americans with healthier choices so that they can choose to lead healthier lives," Obama was quoted as saying.
The companies will changing various ingredients and portion sizes of individual snacks through the Healthy Weight Commitment Foundation, which includes retailers and trade associations.
As there are three times more obese children in the United States than 30 years ago, the First Lady calls for the urgency of action today.
Obama has launched a nationwide campaign to combat an epidemic of child obesity and highlight healthy eating and diet.
Editor:Zheng Limin |Source: Xinhua