BANGKOK, May 18 (Xinhua) -- Thailand's red-shirts core leader Nattawut Saikua said Tuesday morning that he accepts an offer by the senate speaker to mediate peace talks between the anti- government protesters and the government, according to Thai PBS TV.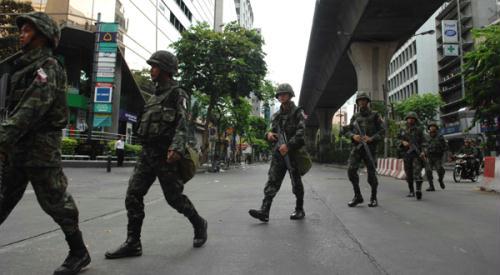 A group of Thai soldiers walk across a street in Bangkok, capital of Thailand, on
May 17, 2010. According to local aid agencies, the clashes between the troops and
protesters which has lasted for 4 days have claimed at least 35 lives.
(Xinhua/Thana Nuntavoranut)
At the Ratchaprasong rally site in downtown Bangkok, Nattawut said the red-shirts leaders agreed to take part in peace talks, as proposed by the senate, in order to avoid more loss of lives.
The Senate Speaker Prasobsuk Boondej Monday offered to mediate a new round of peace talks to end the on-going clashes between troops and the red-shirts, which has claimed at least 37 lives since May 14.
The government's response to the latest statement by red-shirts is yet to know, though the deputy PM's secretary general Panithan Wattanayakorn said Monday afternoon peace talks can only resume after the protesters end the rally in Ratchaprasong.
Thousands of red-shirts, many of them women, still stayed at the main rally site, defying a deadline set by the government earlier to order them to leave by 3:00 p.m. Monday.
Editor:Jin Lin |Source: Xinhua