Though the Mandarin eponym for Portugal - Putaoya - is a savory reference to grapes (putao), the westernmost country in Europe scores more popularity with football feats than for its wines and gastronomy, hospital-ity or warm weather.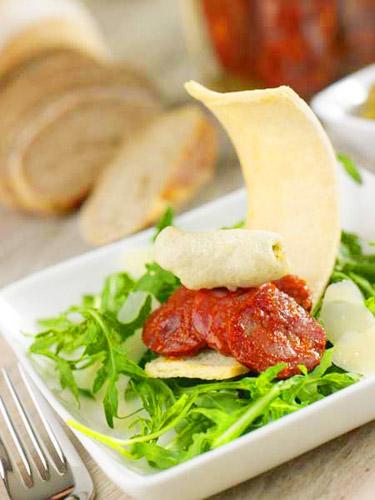 Roasted homemade Portuguese sausage. Photo: Courtesy of Hilton
Beijing Wangfujing Hotel
The Portugal Food Festival, kicking off next Monday at Vasco's - the Hilton Beijing Wangfujing Hotel's Macanese restaurant - is thus an opportunity to fill in the blanks and discover the country's cuisine and wines.
The highlights of this feast are full-flavored dishes by the hands of native master chefs and a sturdy sip of over 200 wines from the country's major wine-producing regions at Beijing's first wine tasting of exclusively Portuguese vintages.
"The buffet will be a culinary journey from the North to the South of Portugal, presenting the most traditional dishes from the country," explained Ricardo Bizarro, the Portuguese resident Chef de Cuisine at Vasco's. "We'll offer more than 100 different dishes, including a rich variety of Portuguese cheese and sausages, a flair of what is more traditional and typical in Portugal, and of course, the wines."
Portuguese gastronomy features rich and full-seasoned recipes; besides the ubiquitous seafood and fish dishes, it also includes a wide array of meat options. The cooking techniques and flavors are those essentially used in Mediterranean cuisine, but under the influence of its old colonies, Portuguese food integrates a dose of exotic spices like saffron and piri piri chili peppers, as well as cinnamon and vanilla.
Vasco's invited two Portuguese master chefs - Elisabete Real and Fernando Real, the owners of Tromba Rija restaurant in Lisbon - for their culinary Chinese mainland debut presenting their renowned "degustação de Portugal," a tasting menu of over 60 traditional Portuguese dishes paired with fine wines and refined for over more than 37 years. The main course of roasted codfish will be served with roasted potatoes and extra virgin olive oil, one of the most emblematic dishes from Portugal. The two cooks describe Portuguese cuisine as "very rich in variety and full of flavors. We use a lot of olive oil, bay leaf, paprika, white wine, garlic, onions, tomato and thyme. Parsley adds especially well to almost every recipe, like stews, salads, sauces; and coriander, in seafood and soups, give a rich perfume to the dishes."
A truly Portuguese gastronomic experience isn't complete without wine, so a tasting will be held on the first day of the festival. "There'll be about 150 wines" from all over the country, said Márcio Ferreira, area manager of Viniportugal, the Portuguese wine trade association responsible for the presentation. "Portuguese wines are unique because our country has more than 260 native grape types and due to the art of blending by contemporary winemakers," explained Ferreira, adding, "This is a great advantage, but also a setback, making promotion and tasting a necessity to pass on the message of Portuguese wines' quality."
Portuguese Food Festival
Dates: May 17 to 26; dinner buffet from 5:30 pm to 9:30 pm
Tel: 5812-8888
Portuguese wine tasting event
Date: May 17; Trade seminar, 1 pm to 2 pm; wine tasting, 2 pm to 7 pm
Editor:Yang Jie |Source: China.org.cn