The thawing in cross-straits relations seemed to turn into more of a love-in in Beijing last week, as not one but three Taiwanese tourism initiatives separately set up stall in the capital. Lifestyle went on-site to investigate.
The Taiwan Guild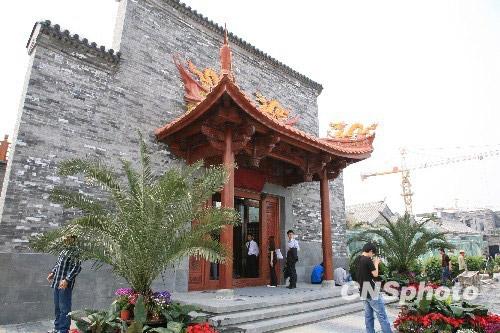 The Taiwan Guild
Built in 1890 for Taiwanese students to take exams in Beijing, the only Taiwan Guild on the Chinese mainland came under the auspices of the Qianmen renovation project, emerging today as a 3,800 square meter building in Qing wood-and-brick courtyard style, designed by Taiwan architect Wei Mingwei.
They're celebrating with an exhibition of over 500 original photographs and historical artifacts, detailing the Guild's past and the history of Taiwanese folk in Beijing. Gifts from the island's party leaders, such as Lien Chan and Wu Po-Hsiung, given to the Beijing Municipal Party Committee are exhibited; if that doesn't grab you, try the minority ethnic costumes and handicrafts section.
Ahead of this year's National Day, a 54,000-square-meter "Imagine Taiwan" commercial area centered at the guild is set to open, which will include the usual ersatz recreations of Ali Mountain Square, Taiwan Old Street and themed shopping malls so "people who haven't been to Taiwan can preview it, while those have can recall the aftertaste," in the words of Wang Huixia, director of Publicity at the All China Taiwanese Association Beijing office, which operates the Guild. It's currently invite-only but Wang promised that next month it'll open to the public, free of charge.
Address: No. 114 Dajiang Hutong, Qianmen Donglu, Chongwen district 崇文区前门东路大江胡同114号
How to get there: Subway Line 2 to Qianmen Stop