BANGKOK, May 19 (Xinhua) -- Thailand Prime Minister Abhisit Vejjajiva on Wednesday night asked the people to be confident of the government, which is in the process to stabilize the country ' s political situation.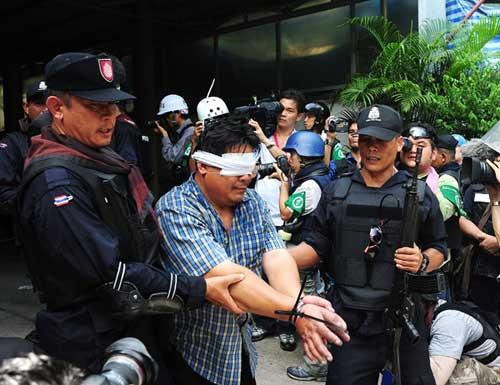 Policemen escort arrested red-shirt protestors in Bangkok, capital of
Thailand, May 19, 2010. (Xinhua/Chen Duo)
"Eventually the difficulty will pass," Abhisit told the nation during a television program at 10 p.m. Wednesday.
Hw made the address after a curfew has been imposed across Bangkok and some 23 provinces of Thailand's 76 provinces, forbidding the public to go outdoors from 8 p.m. Wednesday to 6 a. m. Thursday.
Thailand's government is now attempting to restore normalcy after the two-month long anti-government rally in central Bangkok which ended on Wednesday afternoon.
So far, the anti-government protestors had set fire to at least 27 spots in capital Bangkok.
Now security personnel and rescue teams are cooperating to rescue the innocent people, who have been affected by the arson or other violent attacks, the Thai prime minister said.
Though security forces or rescue teams are attacked by armed men, "they won't retreat and will keep their attempt to help the innocent people," Abhisit said.
"All of these are aimed to restore normalcy," he added.
In a related development, Department of Special Investigation ( DSI) Director-general Tharit Pengdit has warned those, who set fire on several places, or created terror attacks that they may face a maximum punishment of death penalty.
Police are ordered to tighten security at checkpoints in central Bangkok in a bid to prevent violent attacks from escalating, Police Lieutenant General Songpol Wattanachai, Deputy Commander of Metropolitan Police Command Center, said.
In a bid to protect the people and their property, police will apply "a definite measure" to deal with those who create terror or violent attacks, Police Lieutenant General Songpol said.
Some six persons lost their lives on Wednesday as the troops were operating to besiege the anti-government rally site in central Bangkok, Sansern Kaewkamnerd, spokesman of Center for the Resolution of Emergency Situation (CRES) said.
Some 59 others have been wounded as of 8 p.m. Wednesday, the spokesman said.
Related stories
Editor:Zhang Pengfei |Source: Xinhua