KIEV, May 19 (Xinhua) -- Ukrainian President Viktor Yanukovych met Chinese Foreign Minister Yang Jiechi here on Wednesday to discuss bilateral ties.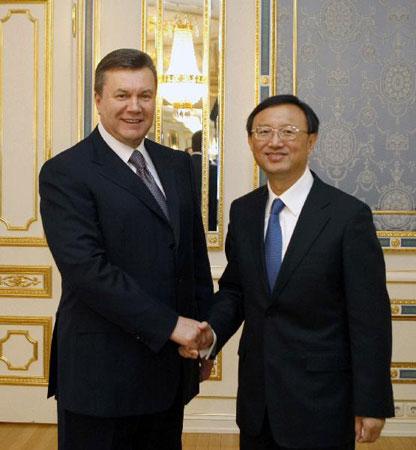 Ukraine's President Viktor Yanukovych (L) shakes hands with Chinaese
Foreign Minister Yang Jiechi in Kiev, capital of Ukraine, May 19,
2010. (Xinhua/Song Zongli)
Yanukovych said that China is Ukraine's good friend and reliable partner for cooperation.
Ukraine puts much emphasis on Ukraine-China partnership, the president said, stressing the relationship with China is a priority of Ukraine's foreign policy.
Yanukovych noted that during his talks with Chinese President Hu Jintao on the sidelines of the Nuclear Security Summit in Washington in April, the two sides reached important consensus that provided guidance for the future development of bilateral relations.
"Ukraine is ready to enhance cooperation with China in fields of aviation, aerospace, technology, agriculture, infrastructure construction and other spheres," he said.
He also said Ukraine will as always keep promoting the friendly cooperation with China, continue to firmly stick to the one-China policy, and make further efforts for the development of the relationship between the two countries.
"It's time to upgrade our ties to a strategic level," Yanukovych stressed.
Yang, on a two-day official visit to Ukraine, said the Sino- Ukrainian relations have solid political, material, and social foundations.
"China always cherishes the traditional friendship between the two nations and is willing to work with Ukraine to broaden channels of cooperation so as to push the bilateral relationship to a new level," he said.
"The Chinese side understands and respects the choice of the Ukrainian people for its road of development, as well as Ukraine's domestic and foreign policies," Yang added.
He noted that China is willing to work with the Ukrainian side to further strengthen the comprehensive friendly cooperation and enrich bilateral ties with strategic connotations.
On the same day, Yang also met with Ukraine's parliament speaker Volodymyr Lytvyn and Ukrainian Prime Minister Mykola Azarov on bilateral cooperation and relations.
Related stories
Editor:Zhang Pengfei |Source: Xinhua