BERLIN, May 19 (Xinhua) -- German airline Lufthansa received its first Airbus A380 on Wednesday in Hamburg.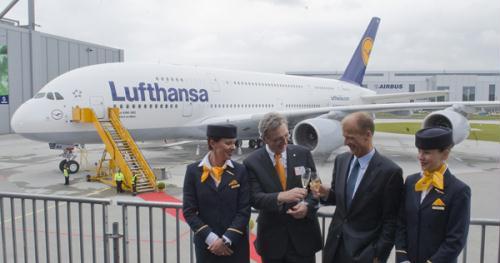 Airbus President and CEO Thomas Enders (2nd R) and Wolfgang Mayrhuber, Chairman and
CEO of Deutsche Lufthansa clink glasses as they pose with flight attendents in front
of a new Airbus A380 aircraft for Lufthansa during a hand-over ceremony at the
manufacturer's site in Finkenwerder, near Hamburg, May 19, 2010.
(Xinhua/Reuters Photo)
Lufthansa, the biggest airline in the country, has ordered 15 A380 super jets, with four scheduled to join the fleet in 2010. Lufthansa plans to deploy its new flagship aircraft on routes to Tokyo, Beijing and Johannesburg.
"Lufthansa passengers will enjoy more space in all classes and the unique cabin comfort, the airline will profit from the unprecedented efficiency of the A380," said Airbus President and CEO Tom Enders at the handover ceremony in Hamburg.
"Passengers can look forward to a very special flight experience on board the A380," said Wolfgang Mayrhuber, Chairman and CEO of Lufthansa.
Lufthansa's version of the A380 will have a capacity for 526 passengers, 420 in economy on the lower deck, as well as 98 business and eight first class seats on the upper deck.
Before its first commercial flight to Japan, this A380 will take the German national football team to the World Cup in South Africa on June 6.
Related stories
Editor:Zhang Ning |Source: Xinhua