MADRID, May 19 (Xinhua) -- Brazilian President Luiz Inacio Lula da Silva on Wednesday said that the United Nations (UN) Security Council should negotiate with Iran to break its nuclear program impasse.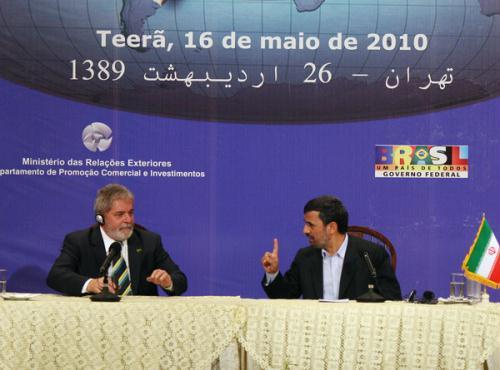 Iranian President Mahmoud Ahmadinejad (R) attends a bilateral economic session with
Brazilian President Luiz Inacio Lula da Silva in Tehran, May 16, 2010. (Xinhua/Ahmad
Halabisaz)
"Now it depends on the UN Security Council to sit and be willing to negotiate, because if they are not willing to negotiate, everything will go backward," Lula said in Madrid where he was attending the two-day Sixth European Union-Latin America and Caribbean Summit.
Iran signed on Monday with Brazil and Turkey a nuclear swap deal in which Tehran agreed to ship the bulk of its 3.5 percent low-enriched uranium to Turkey for deposit in exchange for 120 kilograms of 20 percent high-enriched uranium.
Lula said the agreement was exactly what the United States had been seeking in the past five or six months.
It was Lula's first comment on the issue since Tuesday, when the United States presented to the UN Security Council a proposal on sanctions against Iran, reportedly supported by other countries in the Council.
Lula is a fierce advocate of reforms in the Security Council to increase the number of its permanent seats and include the emerging countries in the Council's decisions.
Related stories
Editor:Jin Lin |Source: Xinhua