MOSCOW, May 23 (Xinhua) -- Chinese table tennis squad enjoyed a strong start at the 50th World Team Table Tennis Championships on Sunday, with both men and women crushing their rivals 3-0.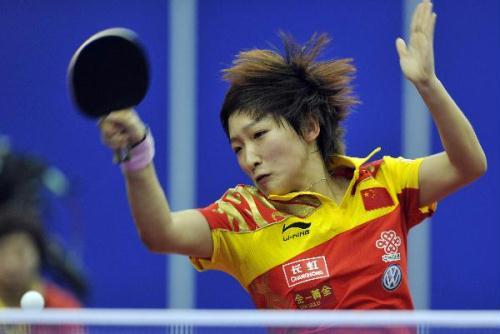 Liu Shiwen of China returns the ball to Debora Vivarelli of Italy during their
women's team group A match at the 50th World Team Table Tennis Championships in
Moscow, capital of Russia, May 23, 2010. Liu won 3-0 and China won 3-0.
(Xinhua/Tao Xiyi)
Chinese women's squad began the defense of its world team table tennis title with a quick 3-0 victory over Italy in the afternoon.
Chinese players Ding Ning, Guo Yan and Liu Shiwen overwhelmed their rivals without losing a single set.
During the first match, Ding Ning, ranked fourth in the world, beat former Chinese Tan Monfardini Wenling in some 15 minutes with a score of 11-3, 11-3, 11-5.
Third-ranked Guo Yan disposed of Nikoleta Stefanova and the world No. 1 Liu Shiwen wrapped up China's victory by beating Debora Vivarelli.
The only tension came up when a seesaw game was seen between Liu Shiwen and Vivarelli, which ended with a score of 14-12.
Shi Zhihao, head coach of the women's squad, said after the match that he actually hoped Chinese girls would face more close matches in the group round stage, which could help them find the right mood for the competition soon.
"Ding Ning and Guo Yue's wins came too easy, which might not be a good thing," he said.
In other Group A women matches, Poland beat Croatia 3-1 and England subdued Austria 3-2.
In group D, Japan won Belarus 3-0. But Ai Fukuhara, the top Japanese player, had a hard 3-2 victory over Veronika Pavlovich.
Fukuhara told Xinhua that she was a bit nervous, but still " lucky" enough to win the game.
The performance of Chinese men's team was also remarkable in first match day, with Xu Xin, Ma Long, Zhang Jike overcoming France.
Though Xu and Ma both lost their second games to French paddlers, respectively, Christophe Legout and Adrien Mattenet, their head coach Liu Guoliang still expressed his satisfaction to the team members.
"We don't have to be 100 percent perfect in the first round. We played and won the round. That's enough," he told reporters.
Supporters' performance was also a thing to watch in the stadium.
When Japanese men's team challenged Hungary, a group of some 60 Japanese supporters made their presence felt. They waved their flags and the cheer leader beckoned them to a chorus of "Nippon".
About 800 paddlers from 116 countries participate in the eight- day sports event held in the Olympiyskiy stadium in Moscow.
Related stories
Editor:Zhang Ning |Source: Xinhua