BEIJING, May 24 -- A team of more than 200 castellers provided a "human tower" spectacle for Sunday shoppers on Shanghai's Nanjing Road pedestrian precinct as part of the start of Catalonian week at Expo 2010 Shanghai.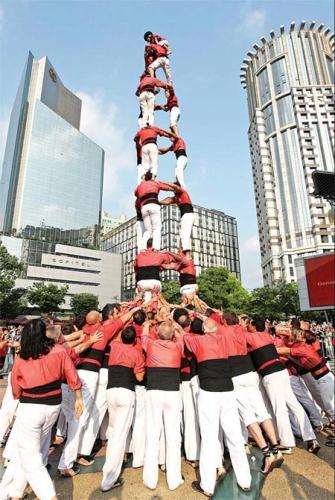 Spanish castellers build a "human tower" on Shanghai's
Nanjing Road pedestrian precinct on Sunday.(Source:
China Daily / Gao Erqiang )
A castell is a human tower built traditionally at festivals in Catalonia, a region of Spain. At these festivals, several colles castelleres, or teams, build and sustain a tower structure for a certain period of time.
The Sunday show was the first time this unique Catalonian tradition had been presented in China, and the result, at Nanjing Road's Century Square, was spectacular, according to onlookers. The group, La Colla Vella de Valls, is among the top three of the six major casteller teams in Catalonia.
The team performed at the opening ceremony of the 1992 Barcelona Olympic Games.
Catalonia, with its capital city of Barcelona, is located in northwest Spain. It is one of the most economically developed regions of the country, said Jordi Fortuny Batalla, representative of the Generalitat de Catalunya.
La Colla Vella de Valls will be building their human towers at the Europe Square in the Expo Garden every day for the coming week.
"We decided to do it first at the Century Square because this is the most popular place in Shanghai and people from all over the country can see the show. Plus, the show may attract them to the Expo Garden," Batalla said.
Wearing pink shirts, white pants and black waist sashes, the castellers gathered in the middle of Century Square to form the base of the tower. Other team members then climbed on their shoulders one after another. When the tower of six levels was formed, with three to four people on each level, a young girl climbed to the top and raised her hands to announce the completion of the structure. The castellers then dismantled the tower by climbing back down to the ground.
Once the base is formed, the structure is completed in only three to four minutes.
The team built the tower five times on Sunday. The record for a castell is 10 levels, but to complete a structure like that, about 500 people are needed, said Josep Sole Tarrago, leader of the team.
Sarai, 5, the girl at the top of the formation, became involved in castells when she was just 3. She dismissed the danger of standing on top of the tower, 12 meters in the air, saying she was "happy" and "felt well".
"Sometimes accidents happen and the tower collapses, but those on top are not likely to get injured because they always fall on the people who make the base," said Teresa Amenos, the wife of Tarrago.
The child who climbs to the top of the tower wears a helmet specially designed for the castellers, Amenos said.
(Source: China Daily)