SEOUL, May 24 (Xinhua) -- South Korean President Lee Myung-bak said Monday his country will resort to measures of self-defense in case of further military provocation of the Democratic People's Republic of Korea (DPRK), calling Pyongyang's alleged sinking of its warship in late March work of a surprise torpedo attack.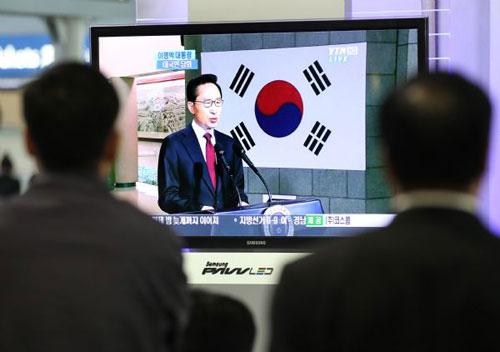 People watch on TV a speech by South Korean President Lee Myung-bak in Seoul
May 24, 2010. (Xinhua)
"North Korea (DPRK) will pay a price corresponding to its provocative acts. I will continue to take stern measures to hold the North accountable," Lee said in a nationally televised speech to the public, a few days after an international team of experts announced that South Korea's 1,200-ton corvette Cheonan was torpedoed by its wartime rival, killing 46 sailors.
"From now on, the Republic of Korea will not tolerate any provocative act by the North and will maintain the principle of proactive deterrence. If our territorial waters, airspace or territory are violated, we will immediately exercise our right of self-defense," Lee added.
As part of the measures, the president said DPRK-flagged ships will no longer be allowed to make passage through any of the shipping lanes in South Korean waters, which was previously permitted under the Inter-Korean Agreement on Maritime Transportation.
Seoul, calling cooperation with DPRK"meaningless," said it will also put trade and exchanges between the two Koreas on hold, although it plans to continue its humanitarian aid to Pyongyang, which has flatly denied its involvement and threatened an "all- out war" in case of any punitive measures against itself.
Condemning the DPRK for violating the United Nations Charter and the Korean War Armistice Agreement, Lee said his government will refer the incident to the U.N. Security Council.
Seoul was quick to seek cooperation and support from its allies and regional powers since the immediate aftermath of the naval disaster, inviting experts from the United States, Sweden, Britain and Australia to join the probe into the incident.
"Apologize immediately to the Republic of Korea and the international community. Immediately punish those who are responsible for and those who were involved in the incident. These are basic measures that the North has to take before anything else, " Lee said.
Related stories