Some of the best heritage recipes are passed down from generation to generation. Pauline D Loh discovers some gems in the heart of the Limestone Coast.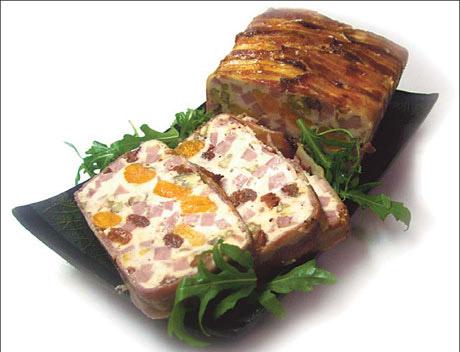 Chicken and ham terrine is one of South Australia's "old-fashioned" dishes.
Photos by Pauline D Loh / for China Daily
Lavender bushes, vineyards and a rocky shoreline are all part of the landscape. The stiff sea breeze sprays the air with a salty tang and the musky aroma of wines in oak barrels adds yet another layer to the heady scent.
This is the Limestone Coast of South Australia, where the land is a rich terra rosa and a high water table prevents it from suffering the drought inflicted on other parts of the country. This stretch of the southern coast is often referred to as God's own country, where milk and honey flow.
Actually, it's not just milk and honey. There's plenty of riesling, cabernet sauvignon and chardonnay flowing as well.
Here, a young Belgium chef is quietly making waves with his handcrafted chocolates, and his love of traditional recipes passed down from his grandmother.
Chef Jason Van Leuven believes we should all go back to the basics as far as food is concerned. At the lunch he served us, his little pastries, terrines and pate were all "old-fashioned" classics using produce from the region. The pate, almost mousse-like, is silky smooth and butter rich and when I asked him for the recipe, he gladly gave it.
This is his grandmother's silk stocking chicken liver pate and part of a collection of what he called "leftover food".
Terrines and pates were originally peasant or farm food, made with the organs and odd parts of the animals that could not be sold at the market. With typical thrift and ingenuity, the farmer's wife would waste nothing, turning the livers into a smooth, silky pate to be had with chunks of crusty bread for a hearty meal.
Other bits of tongue, odd cuts of meat and ham hock ends were all cut up into tiny pieces or ground into sausage meat. For variety, dried fruits and nuts harvested from the garden or orchard would be added to add flavor and color. The mixture would be bound together with breadcrumbs soaked in egg white and then baked, with or without a pastry crust.
As for Leuven's silk stocking pate, therein lies another family tradition. His grandmother would make the pate, and then pass it through a pair of silk stockings to get a very fine creamy paste. These days, of course, Leuven settles for a pair of new nylon stockings.
But the resulting pate is indeed amazingly creamy and literally melts in the mouth. This is a very good recipe for entertaining and can be easily done on the stove top. It stores really well and if stored covered in the fridge, will last a whole weekend when friends come over for drinks and movies.
Recipe | Chicken & Ham terrine
Ingredients:
500 g minced chicken
300 g honey ham, cubed
2 cups fresh breadcrumbs
75 ml cream
3 egg whites
1 tbsp freshly grated ginger
1 tbsp grated lemon zest
1 tsp freshly cracked black pepper
1 tsp sea salt
8-10 dried apricots
8-10 dried cherries
3 tbsp fruit liqueur
20 walnut halves
24 slices streaky bacon
Method:
1. Beat together egg whites and cream until just combined. Add breadcrumbs and mix until well combined. Leave mixture aside in a covered bowl.
2. Place minced chicken, grated ginger, lemon zest, sea salt and black pepper in a blender and process. Add breadcrumb mixture and blend until smooth.
3. Soak the cherries and apricots in the fruit liqueur for about 15 minutes.
4. Chop up the fruit roughly, but not so fine that they disappear. They should still be chunky.
5. Transfer the chicken mixture to a large bowl and stir in chopped fruit, walnuts and ham cubes.
6. Line bottom and sides of a papered loaf tin with the bacon slices so they hang over the edge.
7. Pour the chicken mixture into the pan and fold the bacon strips over the top.
8. Cover the loaf pan tightly with foil. Bake in a pre-heated 180 C oven for an hour. Alternatively, you can steam the terrine over a medium fire for an hour, tightly covered.
9. When terrine is cooked, chill well before slicing so that the juices will firm up the terrine.
Food Notes
This is another recipe that is a great party stand-by. You can make it ahead of time and keep it well-covered in the fridge. It can be eaten either warm or chilled and served as a main course or part of your canap set. To vary the recipe, you can also use minced pork and ham. If you are using minced pork, keep it to a rough mince for texture. You can also layer the terrine with blanched vegetables like carrots or asparagus to get contrasting color and texture.