LUXEMBOURG, June 7 (Xinhua) -- Finance ministers of eurozone countries agreed on Monday on final details of the 750-billion- euro (about 897 billion U.S. dollar) rescue package designed to contain a spreading debt crisis.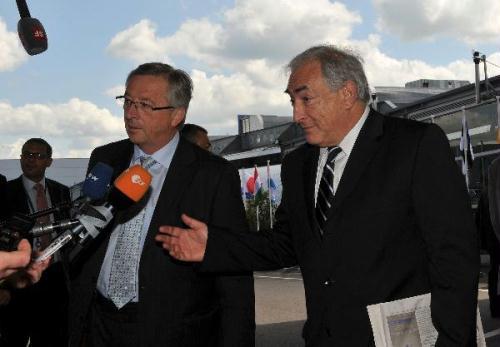 President of Eurogroup and Luxembourg Prime Minister Jean-Claude Juncker (L) and
Managing Director of International Monetary Fund (IMF) Dominique Strauss-Kahn take
interviews before the Eurozone financial ministers' meeting starts in Luxembourg,
June 7, 2010. Finance ministers of the 16-member Eurozone are meeting here on
Monday to finalize details of the rescue package agreed about one month ago to
assure markets rattled by the European debt crisis. (Xinhua/Wu Wei)
"The facility has been just set up today in the form of a limited liability company in Luxembourg," Luxembourg Prime Minister Jean-Claude Juncker told reporters after chairing a eurozone finance ministers' meeting here Monday.
The European Financial Stability Facility, through a special purpose vehicle, will issue bonds to borrow up to 440 billion euros (526 billion U.S. dollars) from the financial markets with guarantees from eurozone countries and lent it to indebted members.
Related stories