LONDON, June 7 (Xinhua) -- British Prime Minister David Cameron laid out the reasons for coming government spending cuts in a speech on Monday, blaming the last Labor government for overspending and warning that the record public sector deficit needs cutting now.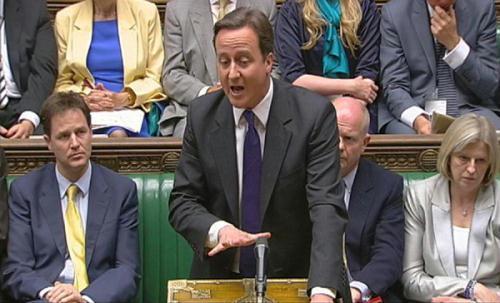 A still image from video shows Britain's Prime Minister David Cameron leading his
first Prime Minister's Questions session at parliament in London June 2, 2010.
(Xinhua/Reuters File Photo)
Cameron said "How we deal with these things will affect our economy, our society -- indeed our whole way of life. The decisions we make will affect every single person in our country. And the effects of those decisions will stay with us for years, perhaps decades to come."
He added "The legacy we have left is so bad the measures we take to deal with it will be tough."
The British prime minister came to power as leader of a coalition government just less than a month ago, whose main task has been identified by both political parties inside it as being tackling the record public spending deficit, which is currently 156 billion pounds (about 240 billion U.S. dollars).
The prime minister said that paying the interest on the debt each year cost could rise to about 70 billion pounds (about 110 billion U.S. dollars).
There were dangers in delaying tackling the debt, said Cameron, "Around the world people and their government's are waking up to the dangers of not handling their debts."
He said while the British economy was not in the same dire shape as the Greek economy, the sovereign debt crisis spreading from Greece to the eurozone is a timely warning to governments of the failure to tackle debt in a credible manner.