It looks like a spooky special effect from a scene in a low-budget horror film.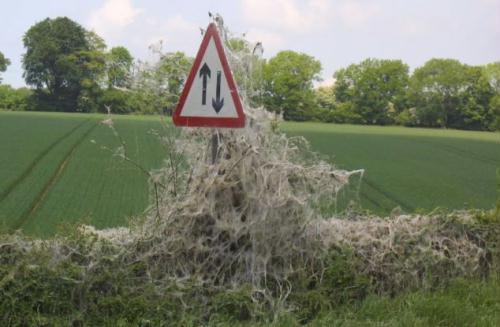 Millions of caterpillars have created this amazing sculpture on a road sign near
Salisbury
But this sticky, silky mass is actually the work of thousands of tiny caterpillars.
Coating bushes, street signs and even garden hedges this is the sign that the ermine moths are preparing to pupate.
Caterpillars, which feed on cherry trees, hawthorn and blackthorn, build webs around their favourite feeding plants as a way to protect themselves from predators.
In their caterpillar stage, the bugs, known as web worms, weave leaves of trees together and eat them from their nests.
They feed on bird cherry trees which are found across Europe and when they emerge fully grown, they become distinctive white moths with five rows of black dots.