TASHKENT, June 10 (Xinhua) -- Chinese President Hu Jintao met Tajik President Emomali Rakhmon here Thursday and called for further bilateral cooperation between the two neighbors.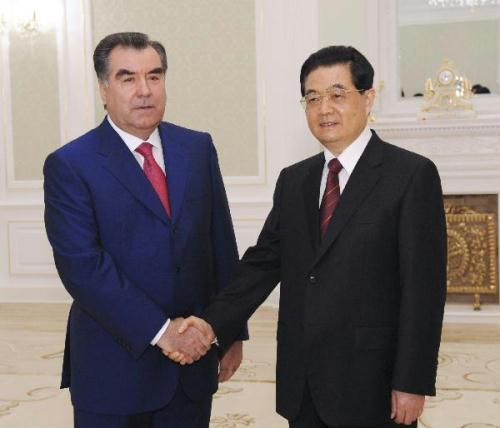 Chinese President Hu Jintao (R) meets with Tajik President Emomali Rakhmon in Tashkent,
capital of Uzbekistan, on June 10, 2010.(Xinhua/Ju Peng)
Hu and Rakhmon exchanged views on bilateral relations and other issues of common concern on the sidelines of the annual summit of the Shanghai Cooperation Organization (SCO), which is scheduled for Friday.
Hu thanked Rakhmon for sending him a letter of condolence after the devastating earthquake in northwest China's Qinghai Province in April. He also expressed appreciation to Rakhmon and the government of Tajikistan for their support to China's hosting of the ongoing Shanghai Expo.
Hu said Sino-Tajik ties had witnessed healthly and smooth development in recent years, saying the two countries maintained close exchanges at high levels, increasingly deep mutual political trust and further expanded practical cooperation in various sectors.
The two sides supported each other firmly on major issues of mutual concerns, coordinated and cooperated with each other within multilateral mechanisms, including the U.N. and the SCO, and this safeguarded the core interests of the two countries effectively, Hu said.
Hu said China had always attached importance to the development of the Sino-Tajik relations on the basis of mutual respect, equality and mutual benefit.
China firmly supported Tajikistan for its efforts on safeguarding sovereignty and stability and boosting national economic development, he said, adding China was willing to work with Tajikistan to push forward development of the friendly and cooperative relationship.
Hu said cooperation between the two countries developed smoothly in the sectors of economy and trade, telecommunication, mining, and agriculture and infrastructure, which gave impetus to the two countries' economic and social development.