TASHKENT, June 10 (Xinhua) -- Chinese President Hu Jintao and his Russian counterpart Dmitry Medvedev met here Thursday and declared they were ready to further advance bilateral relations and cooperation.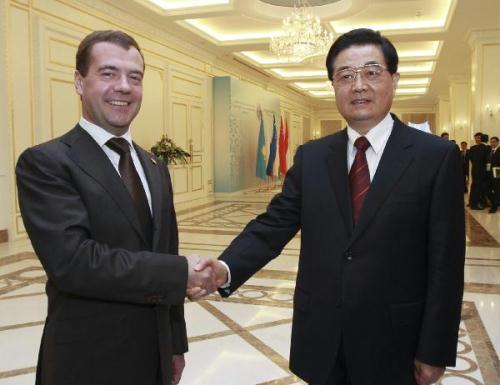 Chinese President Hu Jintao (R) meets with his Russian counterpart Dmitri Medvedev,
in Tashkent, capital of Uzbekistan, on June 10, 2010.(Xinhua Photo)
The meeting was held on the sidelines of the summit of the Shanghai Cooperation Organization (SCO), which groups China, Russia, Kazakhstan, Kyrgyzstan and Tajikistan.
Hu said there had been all-round progress in China-Russia relations in the first half of this year. Noting this was the two presidents' third meeting so far this year, Hu said they had reached consensus on deepening bilateral relations in many areas.
Hu met Medvedev in Moscow last month as Russia marked the 65th anniversary of its victory in the Great Patriotic War against Nazi Germany.
Hu said bilateral relations would see a number of major events in the second half of this year. He said that, first of all, the two countries should make good arrangements for high-level contacts in this period, including Medvedev's visit to China and the regular meeting of prime ministers of the two countries.
Hu said the coming visit to China by Medvedev would be a major event in bilateral relations and government departments were working to ensure a total success of the visit.
Secondly, Hu said the two sides should work to advance cooperation in such areas as trade, the economy, energy and local government to lift the level of practical cooperation and achieve more results.
Thirdly, he said the two countries should continue to promote cultural and people-to-people exchanges by holding "Chinese Language Year" activities in Russia to consolidate the social foundation for developing ties.
Fourthly, the two countries should strengthen strategic communications in accordance with the changes in the international system and in major international and regional issues, in a bid to effectively safeguard both countries' interests in terms of peace and development, Hu said.