TEHRAN, June 10 (Xinhua) -- Iran's Foreign Ministry spokesman Ramin Mehmanparast denounced the UN Security Council's resolution against Tehran as "incorrect and illegal," the official IRNA news agency reported Thursday.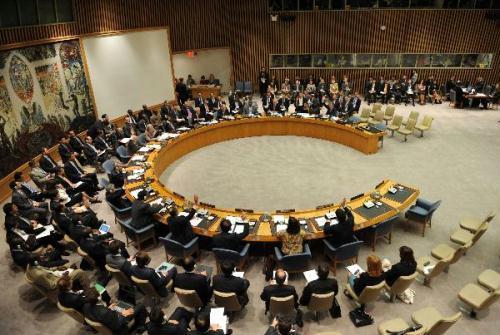 The United Nations Security Council holds a meeting at the UN headquarters in
New York, the United States, June 9, 2010. The UN Security Council on Wednesday
passed a resolution to impose sanctions on Iran over its nuclear program.
(Xinhua/Shen Hong)
Referring to the adoption of new sanctions against Iran, the spokesman asserted that such moves are aimed at preventing the Iranian nation from pursuing its "peaceful" nuclear program and are "incorrect and illegal", the report said.
The UN Security Council Wednesday adopted a resolution to impose a fourth round of sanctions against Iran over its suspected nuclear program.
The resolution was approved by the 15-member Council by a vote of 12 in favor. Brazil and Turkey voted against it and Lebanon abstained.
Talking to IRNA on Thursday, Mehmanparast said that the West adopts double-standard approach concerning Iran's rights to " peaceful" nuclear program.
The best way to respect rights of all nations is to avoid discriminatory attitudes and remove the existing injustice at the international arena, he said without further elaboration.
Editor:Zhang Jingya |Source: Xinhua