TEHRAN, June 10 (Xinhua) -- Tehran accused the West on Thursday of cheating the world on the UN resolutions to impose a new round of sanctions against the country and vowed to pursue its "peaceful " nuclear program.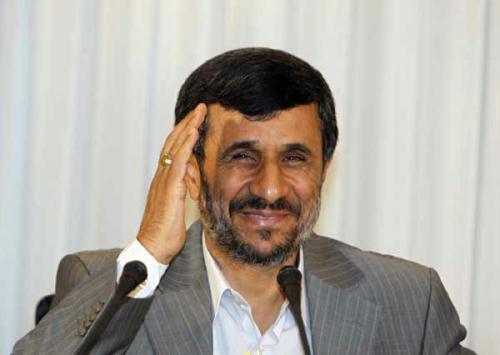 Iranian President Mahmoud Ahmadinejad gestures after his news conference in
Istanbul June 8, 2010. The nuclear fuel swap deal reached between Iran and
Turkey and Brazil is an opportunity that will not be repeated, Ahmadinejad
said on Tuesday. (Xinhua/Reuters Photo)
Iran's Foreign Ministry spokesman Ramin Mehmanparast said that "Western countries cheated the international community" by persuading them to vote for sanctions against Iran, the official IRNA news agency reported.
The UN Security Council Wednesday adopted a resolution to impose a fourth round of sanctions against Iran over its suspected nuclear program.
Referring to the adoption of new sanctions, the spokesman asserted that such moves are aimed at preventing the Iranian nation from pursuing its "peaceful" nuclear program and are " incorrect and illegal," the report said.
"But such moves will never prevent Iran from pursuing its 'peaceful' nuclear program," he was quoted as saying.
Talking to IRNA on Thursday, Mehmanparast said the West adopts double-standard approach concerning Iran's rights to "peaceful" nuclear program, however, the best way to respect rights of all nations is to avoid discriminatory attitudes.
Elsewhere, the spokesman referred to the adoption of sanctions as politically-motivated attitude by the West towards Tehran's " goodwill."
Iran has insisted that the Tehran declaration signed by Iran, Turkey and Brazil on May 17 to endorse a fuel swap, in light of which Iran will ship most of its low-enriched uranium to Turkey in exchange for the 20 percent uranium fuel needed for its reactor, was a sign of Iran's goodwill.