TASHKENT, June 11 (Xinhua) -- Chinese President Hu Jintao on Friday called for strengthening cooperation among member states of the Shanghai Cooperation Organization (SCO), urging new cooperation models and proposing identifying non-resource sectors as a new priority for economic cooperation.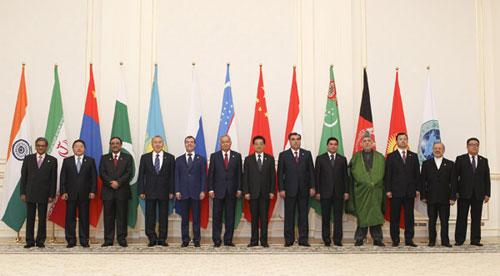 Chinese President Hu Jintao (7th L) and other participants of the Shanghai
Cooperation Organization (SCO) summit pose for a group photo in Tashkent,
capital of Uzbekistan, on June 11, 2010.(Xinhua/Ju Peng)
The Chinese leader, who is attending an SCO annual summit in the Uzbek capital, made a six-point proposal on boosting the cooperation in his speech that included strengthening mutual trust, stepping up counter-terrorism efforts, improving the SCO institutional building and decision-making mechanism, and promoting its transparency and inclusiveness.
"Over the past year, our practical cooperation in various fields within the SCO has been fruitful and has contributed greatly to our collective response to the international financial crisis," Hu said.
Meanwhile, he said the potential of cooperation among SCO members should be fully tapped. Members should work to facilitate customs clearance, quality inspection and transportation, innovate new cooperation models, study ways to establish an SCO regional e-commerce platform and conduct joint studies on agricultural cooperation, he said.
"We propose that non-resource sectors be identified as a new priority for the SCO's regional economic cooperation," the Chinese president said.
At the summit, the leaders and participants exchanged views on the world and regional situation, coordinated strategies for combating terrorism, separatism and extremism, and discussed ways to expand inter-member economic cooperation and set up an SCO admission mechanism.
Participants of the summit approved a series of documents, including the Tashkent Declaration, the SCO Rules of Procedure, and the regulation on procedure for future membership expansion.
Related stories