Industry insiders at the 4th Asia Luxury Travel Market (ALTM) exhibition in Shanghai predicted a resurgence in the luxury travel market, with the Asia-Pacific region and China in particular leading the way.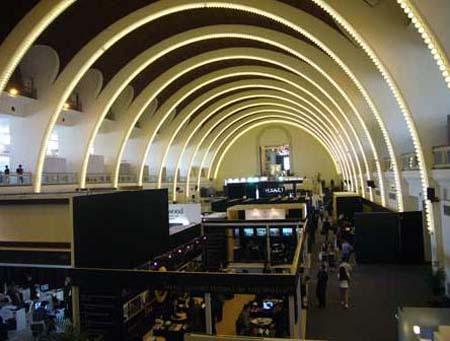 Exhibitors and buyers get together Wednesday at the 4th Asia Luxury Travel Market
exhibition. (Photo: Zhou Ping)
"The ALTM forum held on Monday concluded that Asia offers the greatest growth for the luxury travel industry," Simon Mayle, marketing manager for ALTM organizer Reed Travel Exhibitions, told the Global Times Wednesday. "Japan is one of the leading tourist source markets in the world as is Australia. Furthermore, China is rapidly growing to be the leading source market behind established markets of the US."
According to him, this year's exhibition, which opened on Monday at the Shanghai Exhibition Center in Jing'an district and closes today, attracted 15 percent more buyers and 15 percent more exhibitors offering high-end hotels, resorts and other travel options, compared to last year.
A survey released by the organizers based on 386 luxury travel buyers and suppliers said that 60 percent of suppliers had expanded their products range last year and expect 5 to 20 percent growth in the Asia-Pacific market in the next 12 months. It predicted highest demand from the Chinese mainland, Hong Kong, India and Japan.
"Business dropped in the third quarter of 2008, but it started coming back in 2009, and I think it is going really well now, particularly in Asia and China," said Betty Fung, director of global sales at The Peninsula Hotels.
"Although the Asia-Pacific market usually accounts for a small part of our business, it is growing quickly," Patcharee Meethong, assistant director of sales for hotel, spa and resort operator Anantara, told the Global Times Wednesday. "We're going to open an office in Shanghai soon to expand our business."
Potential buyers also showed confidence in the market.
"We've seen a fast growth in the number of Asian people coming to visit Singapore," said Jennifer Tan of Singapore-based events organizer Uber Inc. "China will soon be the number one source of tourists to Singapore."
Editor:Yang Jie |Source: China.org.cn