WARSAW, June 20 (Xinhua) -- Bronislaw Komorowski, the candidate of Poland's ruling Civic Platform party (PO), and Jaroslaw Kaczynski, the leader of the conservative Law and Justice Party (PIS) will contend in a second round of presidential election, exit polls showed on Sunday.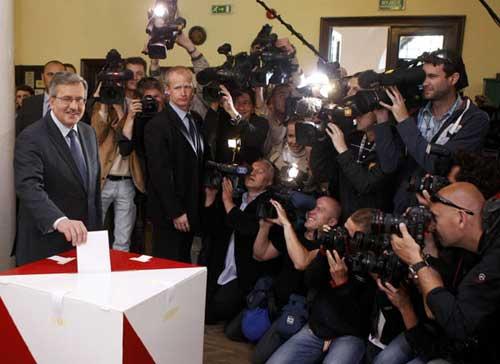 Poland's acting President Bronislaw Komorowski (L), speaker of the parliament
and presidential candidate from Civic Platform Party (PO) casts his vote at
a polling station in Warsaw during presidential elections June 20, 2010.
(Xinhua/Reuters Photo)
Komorowski, the speaker of Poland's lower house of parliament and acting president, won 45.7 percent of votes, and his main rival Jaroslaw Kaczynski, twin brother of late Polish president Lech Kaczynski, received 33.2 percent. Democratic Left Alliance's candidate Grzegorz Napieralski received 13.4 percent of votes, according to an exit poll for TVN television.
Since no one secured an outright victory by garnering over 50 percent of the vote, a runoff between the two top contenders will be held in two weeks, on July 4. The other eight candidates trailed far behind and are now eliminated from the contest.
Komorowski took over presidential duties after the death of President Lech Kaczynski in an air crash on April 10 near Smolensk, Russia.
The presidential elections were originally to have been held this October. Komorowski, in accordance with the Polish election law, decided to call for an early election.
Komorowski is regarded as a center-right candidate eager to push for political unity and a greater Polish presence in the European Union.
Born on June 4, 1952, Komorowski graduated from the University of Warsaw in 1977 with a history degree.
He is currently vice chairman of the Civic Platform party and has been parliament speaker since November 2007.
The business-friendly, pro-EU party chose Komorowski as its presidential candidate in March, weeks before the plane crash in Smolensk.
Komorowski was defense minister from 2000 to 20001 and vice marshal of the parliament's lower house from 2005 to 2007.
Kaczynski, twin brother of the late president Lech Kaczynski, was born on June 18, 1949. As a child, Kaczynski starred along with his brother in the 1962 film "The Two Who Stole the Moon." He obtained a doctorate in law from the University of Warsaw in 1976.
Throughout the 1980s, Kaczynski was active in the Solidarity labor union. He served in parliament from 1991-93.
Kaczynski co-founded the socially conservative Law and Justice party in 2001, and the party won the 2005 parliamentary elections under his leadership.
Kaczynski was prime minister from July 2006 to November 2007, when he gained a reputation for fighting corruption and bureaucracy.
He is known for his nationalistic stance, putting up a frosty front both to the European Union and to Russia.
Related stories