MELBOURNE, Australia, June 19 (Xinhua) -- Visiting Chinese Vice President Xi Jinping met with John Brumby, Premier of Victoria state later Saturday.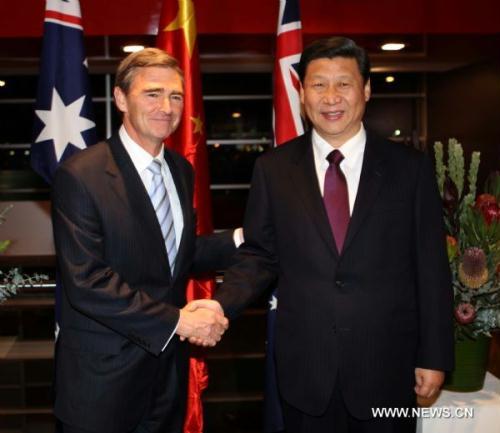 Chinese Vice President Xi Jinping (R) meets with Australia's Victorian Premier John Brumby
in Melbourne, Australia, June 19, 2010. Xi arrived at Melbourne on Saturday afternoon,
starting his official visit to Australia, the last leg of his four-nation visits.(Xinhua/Liu Weibing)
Xi Jinping, who is visiting Australia at the invitation of Prime Minister Kevin Rudd, said his visit aims to enhance mutual trust and friendship, promote extensive exchanges and cooperation and he is to meet Australian leaders and friends of different sectors during the visit.
Xi said exchanges and cooperation at state and province level are important to bilateral relations. In recent years, friendly cooperation between Victoria state and China has achieved positive results, especially in trade and education sectors.
Xi said the Chinese government and relevant provinces and cities in China attach great importance to further exchange and cooperation with the state of Victoria.
He said joint efforts can be made in technological cooperation, especially the high technology sector, research and manufacturing of clean energy automobiles. The two sides can make the most of their high level of complementary properties of trade and investment relations and at the same time deepen cooperation in agriculture.
People-to-people relations are also important, Xi said, adding that the two sides need to further encourage education and travel by having more university-level exchanges, training, visiting scholar programs, technological and educational cooperation.
Xi said this year's Shanghai World Expo, the year of Australian culture in Beijing as well as next year's China year in Australia are providing opportunities for more people-to-people exchanges and links. He said with joint efforts, friendly cooperation between Victoria and China will provide genuine benefits to the peoples.
Related stories