BEIJING, June 19 (Xinhua) -- Rain-triggered landslides in eastern and southern China have killed at least 46 people since Sunday, according to local officials.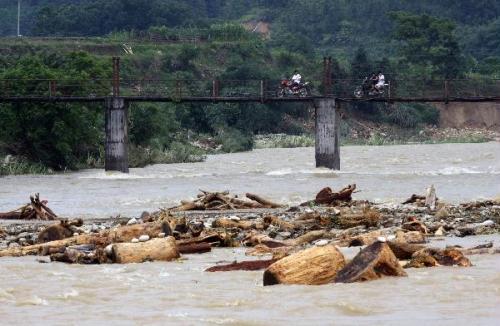 Shattered woods are brought by floods in the Beijiang River in Rongshui Miao Autonomous County,
south China's Guangxi Zhuang Autonomous Region, June 18, 2010. Floods and landslides were
triggered by rainstorm Friday in Rongshui, leaving 4 people dead and causing economic loss.(Xinhua/Zhang Yaohua)
The death toll from a landslide in the eastern province of Fujian rose to 36 Saturday afternoon as five more bodies were recovered from the landslide's debris in Ninghua County, Sanming City.
Rescuers are still searching for the missing.
In neighboring Zhejiang Province, nine people died Friday in two landslides.
In southern Guangxi Zhuang Autonomous Region, a lumberjack was killed and six others are missing after a landslide hit a work shed in a village in Rongshui County early Friday.
As of 10:00 a.m. Saturday, downpours that began pounding southern China Sunday had left 88 people dead, 48 missing, and forced the evacuation of 757,000 residents from their homes, the Ministry of Civil Affairs said in a statement.
About 9.27 million people in Fujian, Zhejiang, Guangdong, Hunan, Jiangxi, Guangxi, Guizhou and Sichuan were affected by the heavy rains, the ministry said.
Direct economic losses caused by the heavy rains have topped 10 billion yuan (about 1.46 billion U.S. dollars).
The torrential downpours have also triggered flash floods, caused rivers to swell, inundated crops, and disrupted traffic and telecommunications.
The State Council has dispatched work teams to the floods-affected areas in Fujian to guide the disaster relief work. The team is being led by Vice Civil Affairs Minister Sun Shaocheng and consists of officials from seven ministries.
Related stories