CANBERRA, June 21 (Xinhua) -- Chinese Vice President Xi Jinping held talks with Australian Prime Minister Kevin Rudd on Monday morning, hailing the relations between the two countries.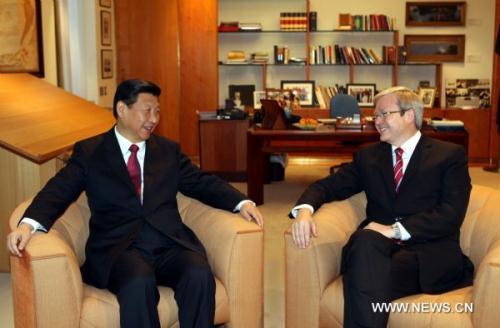 Visiting Chinese Vice President Xi Jinping (L) talks with Australian Prime Minister
Kevin Rudd in Canberra, capital of Australia, June 21, 2010.(Xinhua/Liu Weibing)
The bilateral comprehensive cooperative relationship has set "an example" for countries with different political systems, cultural traditions and development stages to seek harmonious relations and common development, Xi said when talking with Rudd in the Parliament House in Canberra.
The economic complementarity and comprehensive trade and economic cooperation between China and Australia have become an inherent driving force boosting the development of the China-Australia relations at large, he said.
Xi also said the two-way investment and the expansion of the spheres of cooperation signal that Sino-Australian trade and economic cooperation is taking on a comprehensive, multi-levelled and diversified approach.
"This is a blessing for both Chinese and Australian people, and it is also a vital element in promoting the balanced and sustainable development of the world economy," he said.
After the talks, the two leaders witnessed the signing of several cooperation agreements.
Later on the day, Xi will address the Australia-China Trade and Economic Forum with Rudd. In the evening, Xi and Rudd will meet with business leaders from China and Australia who are here for a roundtable dialogue.
Related stories