BEIJING, June 21 (Xinhuanet) -- Tongli is located on the outskirts of Suzhou, just 40 minutes from downtown, and like Suzhou, it has several lush gardens featuring traditional Chinese architecture and horticulture. Tongli's most prominent garden is the Qing Dynasty (1644-1911AD) Tuisi Garden. In Chinese, the word tuisi means "retreat" and "reflection," so, as expected, the garden boasts a number of pagodas and towers perched above a large goldfish pond, ideal for facilitating contemplation. While the hordes of tourists milling about may detract from this purpose, the views are pleasant, and lingering in the quieter spots still leaves time for thought. In the Gathering Beauty Pavilion, designed for observing the moonlight, one can ponder the meaning of poems written in ancient Chinese about the differing nature of rocks high on the mountainside and those deep under water.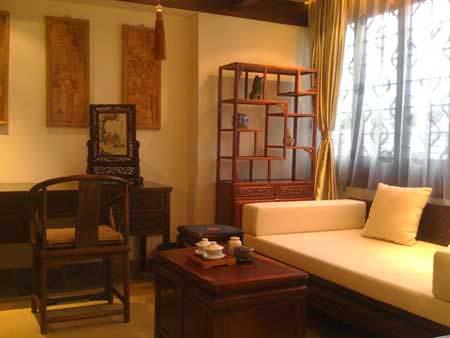 Accommodation with Chineses elegance. (Photo source: Global Times)
Pearl's a singer
Those tired of seeking inspiration in the nooks of gardens can choose to watch a performance of traditional Wuxi opera staged during weekends and holidays from 10 am to 11:30 am and 3 pm to 4 pm. These shows re-enact various scenes from The Pearl Pagoda, a melodrama once serialized on Chinese television and which details the love affair between Fang Qing and Chen Cui'e. So the story goes, Fang wished to marry Chen, but didn't have the money or status required to win her family's approval. In order to improve his chances, Fang hoped to take the imperial examination, but didn't have enough money to travel in order to do so. To help Fang, Chen wrapped a miniature tower made of pearls in a box of sweets for his trip. Today, travelers to Tongli can still see the compound where Chen lived, and the Pearl Pagoda where she allegedly gave Fang the treasure that funded his journey.