Tian'ai Road, or Sweet Love Road, is believed to be the most romantic road in Shanghai. Among the numbers of inconspicuous branches of the commercial North Sichuan Road in downtown Shanghai, this winding and narrow road had been a popular hideaway for the city's young love birds.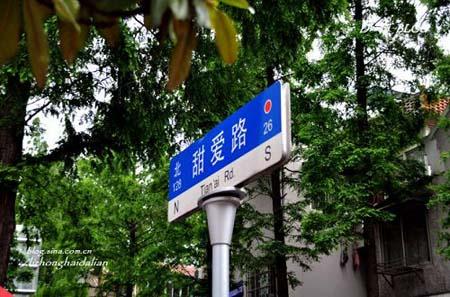 The road sign of Sweet Love Road. [Photo:travel.sina.com]
The name of Sweet Love Road comes from an old legend. It was said that once a well-bred girl who lived on this road fell in love with a low class cattle herder. Facing objections from both families and preconceptions from society at that time, they fought for their relationship and remained together. The road was named after the girl's name, Tian'ai, or literally translated as 'Sweet Love'.
The road is well shaded by trees orderly standing on both sides, and on the decorative stone slates along the road you can find many love poems in English and Chinese. At the entrance of the road, there is a mail drop. Every letter sent from this mail drop will be marked with a specially designed post mark, bearing the affection from the letter sender to the recipient. Thus, the mail box is always full in the time leading up to Valentine's Day each year.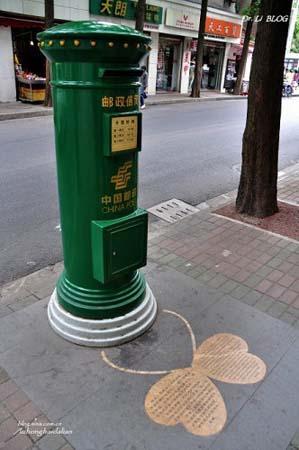 The mail drop guarding the entrance of the road.
[Photo:travel.sina.com]
It was said that couples walking the road hand in hand will have a long and happy marriage, which is a belief shared by many citizens and tourists in Shanghai.