As the old Chinese saying goes, those living on a mountain live off the mountain, and those living near the water live off the water. Living close to the sea is beneficial for not only delicious seafood but also for salt. Traditional salt making was a booming industry in ancient China, but now it is on the way to being reborn as a cultural treasure and tourism business.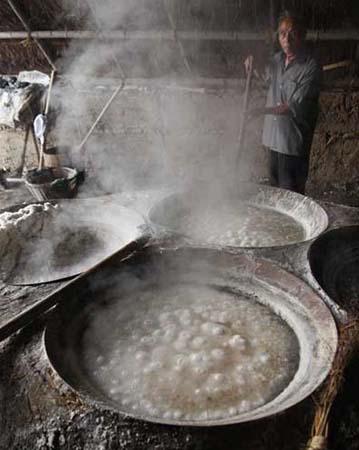 Traditional salt making in Xiangshan county.
In a wood shack, Xu Baoshan put pieces of wood into a clay stove, heating a large pot of water and salt crystals. Seventy-five-year-old Xu is one of the only craftsmen who inherited the traditional salt-making technique that's been passed down from generation to generation in Xiangshan county, on eastern China's Zhejiang Province.
"They are churning up the brine to speed up evaporation, which allows the salt to be harvested," Xu told the visitors of 2010 BMW China Culture Journey, which explored cultural heritage sites and contributed millions in donations for heritage protection supported by BMW China, while his two partners churned the mixture. The salt was mostly white, but a few yellow crystals were visible.
"It is not as white as what we have now, because it is crude salt, only used directly in old times. In normal cases, if one jin of firewood burned out, we would get one jin of salt," said the veteran worker, who has spent three decades in the salt industry.
According to Xu, Daxu village has been involved in the salt-producing industry for 900 years. Salt making is considered a special kind of handiwork because it can be influenced by a variety of factors including climate, winds, amount of rain and so on.
To make salt, they take sea water as a basic raw material, then use beach sand and salty mud (or impure ash made by manpower) under sunlight and wind power to vaporize it, while pouring and stirring the solution to make it into bittern, the salt and water solution that remains after salt has crystallized out of a brine. Then it is turned into raw salt by heating it with a wood fire.
"It seems very simple but the whole process is divided into as many as 13 steps," said Xu. "I can lead you to the place where brine is produced, the most important material in the process."
In another shack, almost the same as Xu Baoshan's, there were five big jars in front, three standing in the open and the other two buried into the earth. Sixty-nine-year-old Xu Kaihua, also a salt-maker, introduced himself as a brine worker and demonstrated how the jugs were sealed with clay plugs and then buried.
"There is salty mud in the jar, which contains salt crystals. And the clay plug can let water through and allow it to melt the salt in mud. Then the water carrying salt will run into this container," said Xu Kaihua, pointing to a smaller jar next to it, also buried but open to the air. "We call this kind of water 'brine.' It is what you see being boiled there."
Following his instructions, we poured several cups of tap water on the top. Minutes later, a cloudy stream ran out. Xu took out a tool that was similar to a wooden ladle and filled it with brine. Two small balls floated on the water's surface, but one was still submerged.
"Two balls are floating, which means the brine is about 22 degrees according to our traditional measurement. If the brine meets that degree, it can be sent to be boiled," said Xu, explaining the tool is close to a Western densimeter, but was invented centuries before that. "The balls are made of resin. If all three floated, the degree would be 24.5, which is rarely seen by this method."