For opera buffs in Beijing, the best Father's Day gift was a ticket to see Leo Nucci performing two of the most memorable fathers in the Italian opera repertory.
The recital at Beijing's National Center for the Performing Arts on Sunday night was the icing on the cake for the 68-year-old Italian baritone whose career spans 43 years and shows no sign of winding down.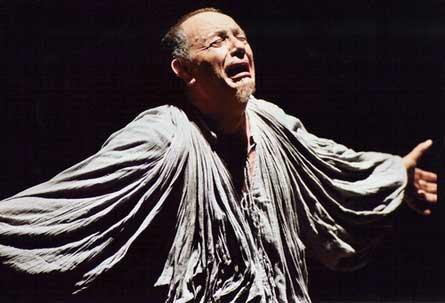 Italian baritone Leo Nucci
Last year he brought down the house at the Giant Egg next to Tian'anmen Square in his signature role as the hunchback in Verdi's "Rigoletto". By popular demand, the production was staged again this season - again to screaming fans and teary-eyed aficionados who know a great performance when they see one.
Most of us know Nucci through opera recordings, often paired with such towering figures as Luciano Pavarotti or Placido Domingo. So it was a delight to hear his sonorous, full-throated delivery and witness his passionate performance live.
Sunday's recital, backed up by the China NCPA Concert Hall Orchestra, under the baton of Lorenzo Coladonato, showed what a consummate artist Nucci is. Even without sets or costumes, he gave you every ounce of the drama embedded in the music.
The highlight of the show was made up of two extended excerpts from "La Traviata" and "Rigoletto".
Partnered with soprano Zhang Liping, the only Chinese singer regularly appearing in leading roles on opera stages across the world, Nucci portrayed Germont's father who chastises the Parisian courtesan Violetta and comes to sympathize with her. You could sense the melting of a father's heart when caught in this moral dilemma. His solo aria, Di Provenza il mar, is infused with the heartache of a father pleading for a rebellious son to return.
As Rigoletto, Nucci played the father to Zhang's Gilda, the daughter. And this father is in an even more terrible quandary as everything he does actually creates the crisis, which eventually leads to his daughter's death. When he learns that Gilda has been duped, he flies into a rage. Nucci's duet, Si vendetta, burst with such emotion that the concert hall exploded into thunderous applause. Nucci had to repeat it twice, as encores, before the audience was willing to let him go.
It is not an exaggeration to say that Beijing loves Nucci. Although Italian opera is no longer a rarity in this increasingly international metropolis, Nucci showed that Italian opera is not about singing in a pretty voice. It is about love and hate in a grand style, with full emotional investment. This is something every father can understand.
Editor:Liu Fang |Source: CRI